CAN BALOTELLI GO ON A ROLL?
Not a smile. Not even a smirk. And certainly not a celebration. That's how Balotelli sporadically treats goals, and finally he had one to not celebrate in the Premier League.
[ RELATED: Watch full match replays ]
On Tuesday night Balotelli scored in the 84th minute to give Liverpool a 3-2 win over Tottenham Hotspur and leave Brendan Rodgers side just four points off the top four. They are unbeaten in nine, with five wins in their last seven and face fourth placed Saints in their next PL match which has become a great chance to close the gap further. The Reds are on a roll. Can Balotelli join them?
As you can see above, Balotelli finally had a smile to share for his first PL goal since 2012 as it took him 48 shots to register his first league goal of the 2014-15 campaign. In the past he has been a streaky player and Liverpool have been a streaky team as we've seen of late, and during their surge up the table last season. Liverpool boss Brendan Rodgers will be hoping that along with Daniel Sturridge's return from injury, they have finally got the Balotelli they thought they were getting when they paid $26 million to AC Milan for his services last summer. At the start of last season "Super Mario" scored six goals in his first eight games and then went six games without scoring, before hitting four goals in his next three matches. After leaving Man City in 2012 for AC Milan he scored 12 goals in his first 13 games for the Serie A side.
Apart from one incident this season, off field issues haven't plagued Balotelli during his spell at Liverpool like they did earlier in his career. He has got his head down, worked hard and to the fans' delight, he finally got his reward on Tuesday to sink a vibrant Tottenham team in what was a huge win for Liverpool with the race for the top four intensifying.
Balotelli is an enigma but when he's hot, he's hot. Liverpool's fans will be hoping that between now and the end of the season their eccentric Italian can bring goals to compliment Sturridge and Raheem Sterling. If he does, the Reds' top four hopes will increase exponentially.
Premier League Schedule – Week 25

CHELSEA, MAN CITY HOLD THEIR NERVE
Chelsea's lead at the top remains at seven points, but on Wednesday we got a preview of the tense times that lie ahead.
As I sat in the press box at Stoke's Britannia Stadium, nervous members of City's media staff, fans and the local media were eagerly awaiting news of any goals at Stamford Bridge. When word spread like wildfire that Chelsea had scored a late, late winner through Willian, plenty of cheeks were being puffed out. Plenty of heads were being scratched. All of that tension, nervousness and worrying has only just begun.
 [ RELATED: Latest PL standings ]
Chelsea beat Everton 1-0, while Man City motored past Stoke 4-1 (their first win in five) after a shaky start threatened to extend Chelsea's lead at the top to 10 points. City rallied and put in a scintillating display of attacking soccer in the second half which suggests the performances we saw them dish out earlier this season is capable of happening again.

Sergio Aguero scored his first goals since Dec. 3, James Milner inspired a battling display (and he was serenaded by the fans as they asked him to sign a new deal) and Samir Nasri returned to pull the strings. But, after they were within minutes of reducing Chelsea's lead at the top to five points. Boom. Everything changed just like that. Expect this back and forth to go on for quite some time as every time Chelsea look like slipping up, City will be desperate to capitalize.
It's status quo at the top of the table, but for brief flashes on Wednesday the title race was balanced on a knife edge.
JAMES MILNER URGED TO SIGN NEW DEAL
"James Milner, we want you to stay!" That was the chant from Manchester City's large band of traveling fans at Stoke on Wednesday after the England international set up one, scored City's crucial second goal and was all over the place.
[ VIDEO: Premier League highlights ]
Milner, 29, has been offered a new deal by the Citizens but has so far been reluctant to sign it and he becomes a free agent in the summer after spending five years at City. With Liverpool, Arsenal and Inter Milan just some of the clubs rumored to want Milner, the fans sung his name with gusto as he put in a typically tireless display to inspire his side into a much-improve second half performance with City all over the place in the first half.
Should Milner stay at City? He's obviously adored by the fans but he is one of those players you take for granted. He is selfless and can slot into any position — he has played at full back, on both wings, in central midfield and a striker for City — with ease. Week in, week out Milner puts in an incredible shift (look at that stat above, remarkable), is consistent and has now scored four goals in his last four games to prove he has quality in the final third.
After the match I asked City manager Manuel Pellegrini's about Milner's performance, his goal and the Chilean boss also touched on his contract situation.
"It was a beautiful goal," Pellegrini said. "It's important for James but more important is the way he works for the 90 minutes. He will always be an important player for us… Well when you have to sign a contract, you need both parts. Maybe it is not that easy but the most important thing is the club wants him to stay. Milner has to decide."
Milner will have options. His impact for City and England is underrated by many but manager's recognize the importance of having a player like him around.
The big question: is Milner okay with starting 20-25 games a season and getting shifted around to different positions every time a new superstar signs for City? If not, he will move on to a club where he feels wanted. Whoever gets him is getting one heck of a player.
TOP FOUR BATTLE THE BEST EVER?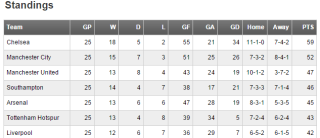 Five into two doesn't go.That's what we are dealing with here folks. Five legitimate challengers for third and fourth have emerged as the race for the final UEFA Champions League places behind Chelsea and Man City is getting very heated.
Manchester United beat Burnley 3-1 to jump up to third, injury-hit Southampton stumbled to drop to fourth, while Arsenal won to maintain fifth and Liverpool beat Tottenham to become serious top four contenders and dent Spurs' chances.
The title race and relegation battle will dominate headlines, but this race for third and fourth may just be the best ever. Three legitimate powerhouses of English soccer — Manchester United, Arsenal, Liverpool — are trying to squeeze into two spots. That's not going to happen. On their day Tottenham can beat anyone, and even tiny Southampton are still up in the top fourth battling it away against the big boys.
With all that in mind, who will definitely finish in the top four? Have a go and make your pick by voting above.
VILLA'S WOES: WHY LAMBERT HAD TO GO
The picture below says it all.
On Tuesday at the KC Stadium, Aston Villa were soundly beaten 2-0 by Hull City as the Villains slipped into the relegation zone.
After scoring just one goal in eight games and losing five-straight games, Villa are in big trouble. They are also managerless after Paul Lambert was fired on Wednesday night after two-and-a-half-years in charge.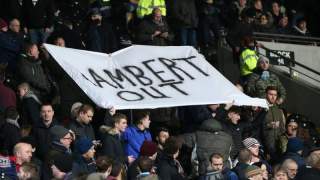 Remember at the start of the season when they won three of the first four and Lambert looked to have turned things around? Yeah, that seems like a long time ago. With Roy Keane walking out as Lambert's trusted assistant midseason and Christian Benteke returning from his long-term injury looking a shadow of the player who tormented defenses during the 2012-13 season, Villa's fans have had enough. The club with an extremely rich heritage (who won the European Cup in 1982) and large fanbase were founding members of the PL and they've never been relegated. That is in serious danger this season.
Lambert's dour demeanor in press conferences and failure to blame his own players has been a constant theme over the past 12 months at Villa Park. Finally, after a disappointing 15th place finish last term, Villa's fans have given up hope that Lambert is the right man to take the club forward. American owner Randy Lerner has been frugal in the transfer market in recent season after expensive flops such as Darren Bent, but that excuse will only get Lambert so far. Villa have international caliber players and promising youngsters but aren't well-organized and are not making it hard for teams to beat them. Add all of that up, and Lambert has left behind one heck of a mess at Villa.
Premier League Playback comes out every week as PST's Editor and Lead Writer takes an alternative look at all the action from the weekend. Read the full archive, here.