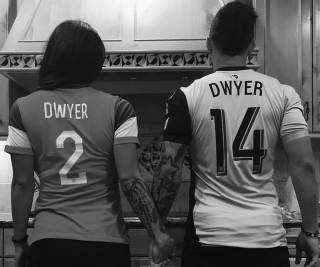 Dom Dwyer and Syndey Leroux, American soccer's newest power couple, shall now be referred to as Mr. and Mrs. Dom Dwyer.
The couple, who met in 2013 and started dating last year, recently revealed to People magazine they were married during a private ceremony in January.
It's no small coincidence that Mrs. Dwyer, who wears the number two for the Seattle Reign and U.S. women's national team, and Mr., who wears the number 14 for Sporting Kansas City, chose Valentine's Day (2-14) to make the announcement.
"Juggling our careers and relationship is very difficult, which is why we decided to wed privately in January," they said in a statement. "We wanted to announce our marriage at an appropriate time when we were together and at a time that suited our families. We also wanted to make sure that we told all of our close friends and teammates before we announced it publicly."
"We just bought a house in Kansas City and are planning on celebrating our marriage with close friends and family after [this summer's Women's] World Cup. We couldn't be happier and can't wait to start our lives together!"
Been hiding this one for a while now. For once I don't know what to say…. ❤️ pic.twitter.com/2vK3i7jS8f

— Dom Dwyer (@Ddwyer14) February 15, 2015
Can we just all agree that Dom Leroux is better than Sydney Dwyer?

— Sydney Leroux (@sydneyleroux) February 15, 2015
This is cause for serious celebration, because the U.S. men's and women's national team player pools are going to get a massive boost right around the 2038 and 2042 World Cups. A hearty round of congratulations and well wishes of many, many more goals scored, to Mr. and Mrs. Dwyer.