At least we saw more than two goals on Day Two of the Round of 16.
The UEFA Champions League champs asserted themselves on the road in Germany, while a pair of non-celebrated sides tangled in a tense affair about 560 kilometers to the South.
[ RELATED: Champions League schedule ]
Let's dig into the second day.
Basel 1-1 Porto – RECAP
Basel is a bit like the Italian national team, at least traditionally speaking. The game is going to be a lot more entertaining if the opponent scores first and the Swiss side has to open up its ideology and show its skills.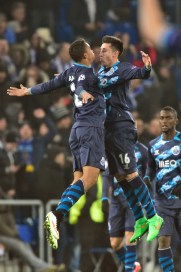 Unfortunately, that didn't happen in Switzerland on Wednesday, as Derlis Gonzalez continued his fine UCL form with an 11th-minute goal that ensured we'd watch the wild talents of Porto try to break through the Basel defense for the next 79 minutes or more.
Porto did convert a late penalty through Danilo to equalize and pick up a valuable road goal, and looked like the better team for most of the match. The 2004 champions can put a scare into any side, and we also learned that this version of Basel is still pretty capable of defending with the best of them.
Schalke 0-2 Real Madrid – RECAP
Seriously, if the UEFA Champions League season ended right now, at least we could take solace in the fact that Marcelo's goal is ours to watch over and over and over again.
But there was much more to this tie in Gelsenkirchen, as Cristiano Ronaldo broke out of his mini-slump in a big way to allow Madrid to tie Bayern Munich for most consecutive UCL victories (10). Ronaldo headed home a cross from Dani Carvajal in the first half before opening up space for Marcelo to hammer home his nail in the late part of the second half.
Schalke had a chance or two and looked a bit better than their work as last year's blowout victims, but Roberto Di Matteo has to wonder what his team can do come next month in Spain. Madrid toyed with the German club like champions do, and looked the part of a team that can make it an eye-popping 11 European Cups come May.
Next week's first legs
Barcelona at Manchester City – Tuesday
Borussia Dortmund at Juventus – Tuesday
Monaco at Arsenal – Wednesday
Atletico Madrid at Bayer Leverkusen – Wednesday
[ MORE: Tuesday's UCL roundup ]