The Europa League's Round of 32 kicks off Thursday with first legs, and there's plenty to like on the docket.
The minnows are gone at this point, though some clubs are longer shots to advance than others. There's plenty to consider, not the least of which is whether a particular club will treat the rest of the tournament with respect or as a problem.
For example, Everton. The Toffees are five points ahead of the drop zone and have a Sunday date with fellow strugglers Leicester City in the Premier League. There's no doubt the Foxes will be bringing their A-lineup to Goodison Park; Will Everton go all-out on Thursday in Switzerland?
[ MORE: Champions League roundup ]
Before we go any further, there are plenty of great match-ups on tap for Thursday. The majority of matches involving teams from the United Kingdom should be fantastic. Everton and Young Boys is the dud of the group, but could be fun if the Toffees choose to go with a weaker lineup. Otherwise, expect a Swiss win for Everton.
Spurs and Fiorentina will mix it up, while Celtic welcomes in Inter Milan. Finally, Liverpool and Besiktas should play a charged affair at Anfield.
Also sneaky good should be Wolfsburg and Sporting CP, Sevilla and Borussia Monchengladbach, and Torino vs. Athletic Bilbao.
[ RELATED: Tim Howard dismisses MLS rumors ]
(Opponents are in parentheses)
The "Thanks for coming" crew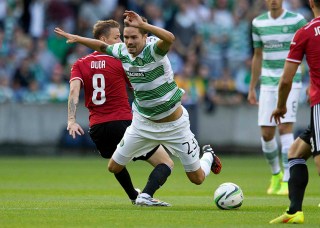 32. AaB (vs. Club Brugge)
31. Legia Warsaw (vs. Ajax)
30. Trabzonspor (vs. Napoli)
29. Red Bull Salzburg (vs. Villarreal)
28. Celtic (vs. Inter Milan)
The read: Sorry, Bhoys, but getting past Inter will prove too much. The match-up is going to be a tactical problem for Ronny Deila's boys, though we'd love to hear a Ronny Roar. The other clubs are too weak or have bad set-ups.
The "might stick around another round" bunch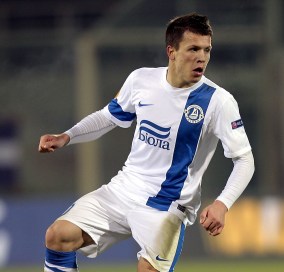 27. Young Boys (vs. Everton)
26. Club Brugge (vs. AaB)
25. Dynamo Kyiv (vs. Guingamp)
24. Dnipro (vs. Olympiacos)
23. Guingamp (vs. Dynamo Kyiv)
22. Torino (vs. Athletic Bilbao)
21. Anderlecht (vs. Dynamo Moscow)
20. Olympiacos (vs. Dnipro)
The read: Hard to imagine any of these squads making it too much further into the tournament, but several have difference makers who could brighten their stars in this run. It'll be interesting to see if Yehven Konoplyanka (Dnipro) or Josef Martinez (Torino) fit that bill.
The pretenders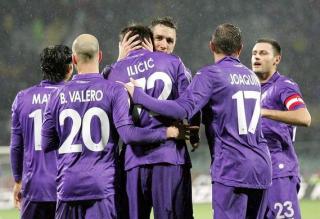 19. Dynamo Moscow (vs. Anderlecht)
18. Besiktas (vs. Liverpool)
17. Feyenoord (vs. Roma)
16. Athletic Bilbao (vs. Torino)
15. Everton (vs. Young Boys)
14. Fiorentina (vs. Tottenham Hotspur)
13. Borussia Monchengladbach (vs. Sevilla)
The read: Even if Roberto Martinez is going hard for the Europa League title, it's hard to imagine they make it out of the Round of 16. Several squads in this group just have hefty competition to defy in order to advance, while some just don't have the quality to play onward. Dynamo Moscow stays in this group thanks to the potential for crazy travel competition. Monchengladbach has a quality squad but also the obstacle of the reigning champions in the Round of 32.
The contenders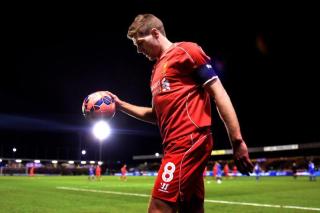 12. PSV Eindhoven (vs. Zenit Saint Petersburg)
11. Inter Milan (vs. Celtic)
10. Sporting CP (vs. Wolfsburg)
9. Ajax (vs. Legia Warsaw)
8. Zenit Saint Petersburg (vs. PSV Eindhoven)
7. Napoli (vs. Trabzonspor)
6. Liverpool (vs. Besiktas)
The read: PSV and Zenit have the table leads to risk plenty in the Europa League, while Sporting CP has the quality but league trouble as a concern. If Liverpool makes it past Besiktas, it could jump into the elite conversation, but Brendan Rodgers side still has a thing or two to prove in and out of the Premier League.
The favorites
5. Sevilla (vs. Borussia Monchengladbach)
4. Villarreal (vs. Red Bull Salzburg)
3. Tottenham Hotspur (vs. Fiorentina)
2. Roma (vs. Feyenoord)
1. Wolfsburg (vs. Sporting CP)
The read: There's a fine line between being a "contender" and a "favorite", but four of these five look very strong and the fifth won the whole thing last season. Spurs have a tricky Round of 32 matchup with Fiorentina, and so does Wolfsburg. But Bas Dost and Co. are tough stuff.