Adam Lallana is nervous about returning to Southampton with Liverpool this weekend.
Saints' former captain, who signed for Liverpool in a $40 million deal last summer, will be the center of attention at St Mary's stadium on Sunday (Watch live, 11:15 a.m. ET on NBCSN and online via Live Extra) as the player who joined Saints at the age of 12 and rose through the ranks to captain the first-team still holds Southampton close to his heart.
[ RELATED: Lallana's first-person piece for NBC SportsWorld ]
Back in November I sat down with Lallana and produced this first-person piece for NBC SportsWorld where he discussed his return to Southampton and the reception he hoped to get from Saints' fans.
I'll have to return to play at Southampton some day, and I really hope my reception is a good one. I had a great time down there and had a great relationship with the fans. Yes, the fans are obviously disappointed that I left and I can understand that. But it was a decision I had to make.

I look back at my time there — the back-to-back promotions, the journey we went on — and it's great to see them still doing so well. You know, I'm sure there will be a bit of banter and jeering, but I hope I get a bit of a warm reception as well.
Speaking to BBC Radio Solent on Thursday ahead of his first-ever game against Southampton, Lallana, 26, echoed plenty of those sentiments he shared in his piece with NBC SportsWorld.
[ RELATED: Southampton's summer exodus continues ]
His entire family still lives in the Bournemouth area — close to Southampton and where Lallana grew up — and Sunday's match between fourth-placed Saints and seventh-placed Liverpool is a crucial clash in the race for the top four.
"I'm not stupid enough to think the way I left didn't leave a sour taste in a few people's mouths. Football is a fickle game, and if I get the jeers and the boos I will just take it that they [the Saints fans] miss me, they miss me playing down there," Lallana said. "I miss them, I miss the times I had at Southampton. I knew I would, because I had some fantastic times there."
Of the three Saints players who swapped Southampton for Liverpool last summer, Lallana is the only player expected to start on Sunday. Rickie Lambert and Dejan Lovren have been bit part players, but all three can expect a frosty reception. Only Lambert will get a slight reprieve due to his legendary goalscoring which helped Saints rise from the third-tier to the top four of the Premier League in just five years. Lambert left to join the club he supported as a boy, Liverpool, at the age of 32.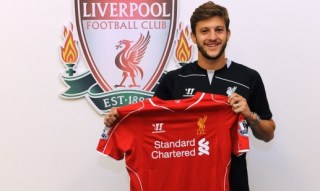 Lallana's departure was a lot different and hurt most Saints. At 26, he was just entering his prime and after being at Southampton since the age of 12 he represented the heart and soul of the club. Rumors circulated last summer that the England international refused to play for Saints as soon as Liverpool tabled a bid for him. That's something Lallana denies but he has spoken about his regret that he didn't leave the club on better terms.
Asked by BBC Radio Solent if he would celebrate if he scored against Saints, Lallana had the following to say:
"Of course not. I've got huge respect for the club, part of me doesn't even know how I'm going to play. It's all a bit surreal. I just have to be professional and play well for Liverpool. I've got too much respect to celebrate."
With that in mind, should Saints' fans forgive and forget Lallana for leaving for Liverpool and give him a good reception on his return to St Mary's? One would like to think so, but I very much doubt it.