CHELSEA ON WRONG END OF BAD DECISIONS
Jose Mourinho has moaned about officiating before. On many occasions. But this time, he really had a valid argument.
On Saturday Chelsea drew 1-1 against Burnley as their lead at the top of the Premier League table was cut to just five points. Mourinho's boys were cruising against the Clarets but then a moment of real controversy, preceded by several failed penalty appeals and other dubious decisions, changed the game.
[ RELATED: Mourinho agitated, as decisions go against Blues ]
In the 69th minute of Burnley's dramatic draw, Ashley Barnes lunged into an atrocious leg-breaker of a tackle on Nemanja Matic and as the Serbian got up he launched himself at Barnes and pushed the forward to the ground. Referee Martin Atkinson then sent off Matic with Chelsea 1-0 up and they couldn't hold onto their lead after going down a man. Barnes has since been cleared of any retrospective action by the FA, while Chelsea ponder an appeal over Matic's ban as he will miss the League Cup final on Sunday and two other PL games.
Is Mourinho right to be incensed? Absolutely. Here's the transcript from his post-match presser which was conducted moment after the final whistle:
 "I think there are four moments of the game where you can write the story of the game," Mourinho said. "Minute 30. Minute 33. Minute 43. Minute 69. I repeat for you, to make it easy for you. Minute 30. Minute 33. Minute 43. Minute 69.

"Asked to describe the incidents which occurred in those moments, Mourinho said: "I don't describe. To describe I have to use words that I cannot use. It is better we finish here."
Two extremely strong PK calls and a clear kick from Barnes into Branislav Ivanovic's back was missed by Atkinson and his officiating crew in the first half, as the Blues were hard done by and had a routine win snatched away from them. Yes, Matic shouldn't have pushed Barnes but the tackle was truly horrendous. PST's Andy Edwards asked: what would you do in Matic's situation? It would be extremely hard to not react. Mourinho then made an impromptu appearance on Sky Sports show Goals on Sunday and piled on the pressure by saying Ashley Barnes' action were "criminal" and he lambasted Atkinson's decisions.
Usually, talking about referees performances gets a bit old. Especially when it comes to Mourinho. But the Portuguese boss has a point. The decisions which went against his side on Saturday were horrendous and everyone sat at home and watching the game at Stamford Bridge knew it. It wasn't the only shocking decision this weekend, as Southampton had at least two clear penalties waved away by referee Kevin Friend at St. Mary's Stadium on Sunday.
[ RELATED: Watch full match replays ] 
Speaking to Ronald Koeman after his side lost 2-0 to Liverpool, the Saints boss believes that more needs to be done to help the referee and he, like Mourinho, is a big fan of using technology.
"Humans can make mistakes, " Koeman said. "In every country there are critics about the referee. I don't do that. The fourth official can do a lot more than he can do. He is watching. He can help the referee with decisions and the technology is a big help for referees in a difficult situations."
Mourinho has now spoken his mind after his initial encrypted message which seemed as though he was spouting off his lottery numbers. In minutes 30, 33, 43 and 69 of their match against Burnley, Chelsea have every right to feel aggrieved. With Manchester City breathing down their necks, will three points turning into one make a big difference at the end of the season? For Atkinson's sake, I hope not.
Premier League Schedule – Week 26

Officiating needs to be improved and I agree with Mourinho and Koeman, technology needs to be used wherever possible to help improve the standard of calls and make sure there is a level playing field.
At the moment the calls are ridiculously inconsistent and those decisions are the major talking points of games when we should be concentrating on the play of 22 professional players. Not four professional referees.
LIVERPOOL CONTINUE SURGE AMID ANIMOSITY
Liverpool launched themselves back into the top four race on Sunday with a vital away win at Southampton. In the driving rain on the south coast Philippe Coutinho produced a moment of magic early on and Raheem Sterling struck in the second half to kill off the Saints. That doesn't tell the whole story at St. Mary's. Far from it.
[ RELATED: Latest PL standings ] 
Southampton could have had a penalty kick after 17 seconds when Emre Can appeared to haul back Filip Djuricic as he went clean through on goal. Referee Kevin Friend waved away the calls and did so again when Joe Allen clearly pulled back Djuricic moments later. Simon Mignolet also looked to have handled outside the box when blocking Eljero Elia's shot and Dejan Lovren handled in the box before Jose Fonte looked to have brought down Sterling at the other end, but he did get a smidgen of the ball as he slid in. Chants of "1-0 to the referee" greeted Friend as he and the officials walked off the pitch to a cacophony of boos at half time as the home fans were incensed with his decisions.
Liverpool put in a solid display, despite only recording four shots on goal and having 40 percent of the ball, but were they a tad bit lucky against Saints? Our analysts break that down in the video below.
[ RELATED: Three things we learned from St. Mary's ]
All in all, it was a turbulent afternoon down on the south coast, as the animosity towards the referee was equaled by how the home fans felt towards three of Liverpool's players. Well, two. Lovren and Adam Lallana bore the brunt of the hatred, while Rickie Lambert was given a standing ovation as all three returned to St. Mary's for the first-time since leaving for Liverpool last summer.
Lallana, who spoke to me for NBC SportsWorld last November about this very game, had an off-day as he was substituted in the second half with the entire stadium booing the former Saints skipper who had come through the ranks of their academy after joining the club as a 12-year-old. Lallana, according to rumors which he vehemently denies, refused to play for Saints last summer to push through a move to Liverpool. The locals did not forget.
[ RELATED: Lallana pens first-person piece for SportsWorld ]
He was cast as the villain, while the man he spear-headed Saints' remarkable ascent from the third-tier to the top six of the PL with, Lambert, was lauded as fans sung his name all afternoon. It was bizarre and in his post-match press conference Rodgers was not happy with the way Lallana and Lambert were treated by Southampton's fans… and the editor of the matchday programme.
"I was a wee bit disappointed for Adam Lallana, I've got to say. Adam was the captain here for two years and has given an incredible service to Southampton and I know for a fact that he could have left here a number of times and didn't. To get the reception that he got was disappointing," Rodgers said. "I looked in the match programme and there was nothing relevant to his time here and all the time he has been here since he was a boy. The likes of Rickie Lambert, an incredible servant here and got the club to where it is today.

"There was no mention of him. Which I thought was sad. Those two guys gave their heart and souls to Southampton and are big supporters of this club. They have moved to one of the biggest clubs in the world, so it's hard to deny a player that. I thought they would have been given more here today. At other clubs they will always have something in there of appreciation for their former players, but there was absolutely nothing in there on these two guys. For me that's a bit sad. I was thinking of them today when I was looking at the programme before the game. Everything they have given this club to get them to where they are today and there wasn't a mention of them."
Of course Rodgers is going to back his players, but did he really need to pick out something so obscure to make his appoint? He also thought the referee was "excellent"…
[ VIDEO: Premier League highlights ]
Regardless of that strange Mourinho-esque episode, Coutinho's moment of brilliance capped off a professional display as Liverpool bent but did not break against a goal-shy Southampton side who have now scored just once in their last four outings and were hamstrung by Sadio Mane being punished for turning up late for the pre-match meal. 10 games unbeaten in the PL and with just one defeat in their last 18 in all competitions, Liverpool are on a roll. The 3-4-3 formation is helping them grind out results, as they are now within three points of the top four and are two points behind arch-rivals Manchester United despite trailing them by 10 points on Dec. 26.
BACK PAGES: WHAT ARE THE TABLOIDS SAYING?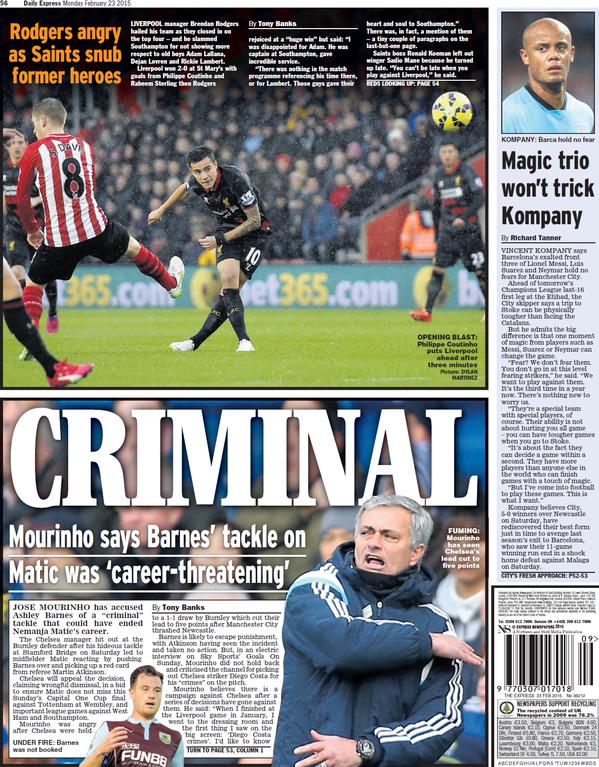 We've spoken about Mourinho and Liverpool, and they were the talk of the back pages across England on Monday.
Click on this link to see what the tabloids thought of Week 26 in the Premier League, as the storylines at the top and bottom of the table continue to contrive towards a conclusion in a hugely captivating fashion.
MAN CITY HITTING TOP GEAR
Manchester City have scored nine goals in their last two PL games and Sergio Aguero is back in business.
City hammered Newcastle 5-0, with the Argentine scoring one and creating havoc with his darting runs, on Saturday and were buoyed by the news that Chelsea let two points slip at home to relegation candidates Burnley. Can Man City claw back a five-point deficit in the final 12 games of the season? It's doable.
[ RELATED: An in-depth look at NYCFC's time at Man City ]
Aguero and Vincent Kompany look to have fully shaken off the rust from their long-term injuries, while Yaya Toure and Wilfried Bony returning from the Africa Cup of Nations will rejuvenate the Citizens ahead of their huge UEFA Champions League last 16 clash against Barcelona on Tuesday.
Bigger challenges than a hapless Newcastle at home lie ahead for City, with a trip to Anfield to play in-form Liverpool next up in a real test of their title credentials. But if they carry on scoring boat loads of goals, City won't be far off top spot when May 24 comes around.
Premier League Playback comes out every Monday as PST's Editor and Lead Writer takes an alternative look at all the action from the weekend. Read the full archive, here.