MANCHESTER — Manuel Pellergini got his tactics horribly wrong on Tuesday night as he deployed a 4-4-2 system to try and cause problems for Barcelona's defense with Edin Dzeko and Sergio Aguero up top.
[ RELATED: Three things we learned ]
Instead the Chilean boss caused plenty of issues for his own back four, with neither David Silva or Samir Nasri comfortable playing out wide as true wingers and Barcelona's full backs pushing on to create overloaded situations time and time again.
[ RELATED: Timeline – Messi v Aguero ]
Barcelona's midfield dominated possession in the first half, with Fernando and James Milner reminiscent of statues as the entire City team gave Barca too much respect. After 31 minutes City were 2-0 down thanks to Luis Suarez's predatory finishes and the experiment to start Dzeko and Aguero up top together — which although it worked wonderfully against Newcastle United last weekend, it didn't have the same impact on Tuesday — looked foolish in the Citizens' biggest game of the season so far. Pellegrini needed to succeed in the Champions League in his second-season at the Etihad and instead of taking responsibility for his decision to alter the system, he put the blame solely on his players when speaking to the press afterwards.
[ RELATED: PK hero Hart says City can advance ]
Perhaps he was right to. Fernando gave the ball away time and time again, Nasri and Silva were isolated and the Citizens badly missed Yaya Toure (suspended) and his powerful drivings runs from midfield to help mesh things together. So, why did Pellegrini deploy a 4-4-2 formation and play in an unfamiliar way for the visit of Barcelona to the Etihad? Speaking to the media afterwards, Pellegrini had no answer.
"We didn't play in the first play, which is why it was impossible to try to win," Pellegrini said. "More so when you give up an easy goal and it was more easy for Barca to retain and keep the ball for longer. I think that if we played in the first half the way we played in the second half, the score would have been different… In the second half we did what we talked about before the game. We did well and it is not easy to play against Barcelona. We conceded two goals and we scored one and had two or three clear chances more."
On the contrary, Luis Enrique was extremely happy with his sides performance (despite Lionel Messi missing a last minute penalty kick which would have sealed a 3-1 win) and the Spaniard definitely had the upper-hand on Pellegrini.
By keeping the three dangermen of Neymar, Luis Suarez and Messi high, Enrique allowed City to have the ball in midfield but every time his side broke they tore City apart in the first half. In one instance Barca kept three attackers forward when City had a corner, as the Catalan club stretched the Citizens and punished them ruthlessly.
Dominating midfield with Sergio Busquets having all the time in the world to pick off forward passes, then Ivan Rakitic and Andre Iniesta able to push high on Milner and Fernando, Barca bossed proceedings in the first half. Enrique's assistant Juan Carlos Unzue was stood on the edge of the technical area for most of the match, dressed in a smart pair of sneakers and jeans, his demeanor certainly didn't match his casual look. At every opportunity he urged the back four to step up whenever the ball was in City's half and Unzue was in constant dialogue with center backs Gerard Pique and Javier Mascherano who blocked plenty of efforts as the Catalans defended resolutely.
Enrique, a former midfield enforcer during his playing days for the Catalan club, was delighted with the way his midfield controlled City.
"We were superior in the middle of the park and created situations of danger," Enrique said. "They couldn't find [David] Silva between the lines. Second half, after the break we knew they would come at us. They have quality, they pressed us in the second half."
Enrique was right, City improved drastically after the break but only because they had to and Barca sat back to try and preserve their 2-0 lead. After Dzeko's poor header from six-yards out where he should have scored, Aguero's fine finish gave City hope of clawing things back, as they looked buoyed by the arrival of Fernandinho on 62 minutes with Milner heading out to his favored wide-right position in place of the disappointing Nasri. But just 10 minutes later Gael Clichy was stupidly sent off for a second yellow card and Barcelona dominated the final 15 minutes with the one-man advantage. It was all too similar to City's games against Barcelona last season as they have now had three red cards in three games against the Spanish giants and have given away two PKs. Pellegrini called Pablo Zabaleta's last minute challenge on Messi to give away a penalty kick "unnecessary" and called for his side to "control their emotions better" in the box.
Pressed again on why he chose to deploy a 4-4-2 system, as City started slowly and never fully recovered, Pellegrini again brushed it off.
"It was the way we must play against Barcelona. Barcelona will always dominate some part of the game in the midfield," Pellegrini said. "With the same players in the second half and losing 2-0, it is more difficult to play because Barcelona played with more quiet. It was the way we must play from the first whistle…. We must play the way we normally do and the way we played in the second half. If we do then I think that we can have chances."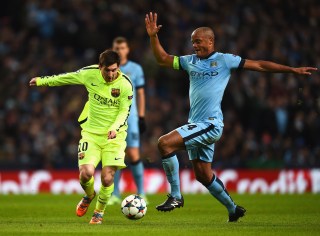 City's goalkeeper Hart, who saved the penalty kick at the death from Messi which could well prove pivotal, believes his side are still in this tie. Just.
"We pressed until the first goal and panicked a bit. We regrouped second half, put a lot of pressure on and were good for our goal and maybe good for a result tonight," Hart said. "The occasion did not get to us, sometimes things go against you. It is 2-1 and we go there with belief."
City now need at least a 2-0 win at the Nou Camp on Mar. 18 to go through to the UEFA Champions League quarterfinals for the first time in club history. It's a big ask, but it can be done if they play the same way they did in the second half and cut out the silly errors.
It can also be achieved if Pellegrini gets his tactics correct from the beginning, with a 4-3-3 system involving Toure a must. City played into Barcelona's hands for over half of the first leg and are lucky to still be in with a chance, albeit a rather slim one, of advancing. If City's defeat to Barcelona on Tuesday proved anything, it is that they are failing to progress under Pellegrini in Europe as they head into another second leg at the Nou Camp starring Champions League elimination in the face.