MANCHESTER — On Tuesday at the Etihad Stadium an intriguing last 16 clash in the UEFA Champions League played out as Barcelona beat Manchester City 2-1 in the first leg.
[ RELATED: Timeline – Aguero v Messi ]
Luis Suarez struck twice early on to set Barca on their way but an improved second half display from City saw Sergio Aguero pull one back as they go to the Nou Camp in two weeks still in the tie, but knowing they need at least a 2-0 win to advance to the quarterfinals for the first time. A huge ask for Manuel Pellegrini's side.
[ RELATED: Pellegrini's gamble backfires ]
Here's three things we learned from the Anglo-Spanish encounter in Manchester.
SUAREZ LOVES PLAYING IN, OR AGAINST, ENGLAND
You just knew he would take center stage on his first game back in England. You just knew it. Luis Suarez scored twice in the opening 31 minutes to put Barcelona 2-0 up and the Uruguayan ace frightened the life out of Martin Demichelis and Vincent Kompany for the entire match. Suarez got a little lucky on the first goal, as the ball rebounded off Kompany and straight back into his path, but there was nothing lucky about the instinctive hammer blow from his left foot. Then, he waited patiently on the penalty spot for his second goal as Jordi Alba pulled back a perfect ball for the onrushing Suarez to tap home in the six-yard box.
If fans in England had forgotten just how good Suarez was after his move to the Nou Camp from Liverpool in the summer, this was an incredible reminder of his predatory finishing. Joe Hart must be sick of the sight of Suarez. He scored twice vs. Hart (that was just the four times in his last 135 minutes vs. City's goalkeeper) and England in the 2014 World Cup in Sao Paulo. Once again "El Pistolero" was the sharpest shooter in town at the Etihad Stadium on Tuesday.
4-4-2 SYSTEM EXPOSES CITY
Manuel Pellegrini's decision to go with the 4-4-2 system instead of the usual fluid 4-5-1/4-3-3 failed. Miserably. City's two holding midfielder James Milner and in particular Fernando, were statues as Barcelona's fluid attacks were allowed to build up around them. Eventually Pellegrini brought on Fernandinho and shifted out Milner to the wing, where he is much bigger threat, but it took too long. Having David Silva and Samir Nasri as traditional wingers was a flawed plan from the start, as the system almost became a 4-2-4 with neither Silva or Nasri listing "tracking back" as one of their strengths on their resume.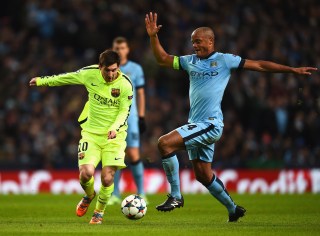 Dzeko wasted a glorious chance at the start of the second half as he headed straight at Marc-Andre ter Stegen from six-yards out with the entire goal at his mercy. City had chances in the second half to halve the deficit, but only because Barcelona were content to sit back and protect their 2-0 goal lead. In the first half City's tactics were exposed horribly by Barca's incredible front three of Neymar, Suarez and Messi. In the end City got their reward for a much improved second half display as Aguero scored to give them hope for the second leg but Pellegrini's gamble to play two up top from the start has dug the Citizens into a hole they may not get out of.
KOMPANY'S RUSTINESS REMAINS
Kompany has struggled since returning from injury in January. There's no two ways about it. City's powerful central defender and captain looks to have lost his sharpness and you can no longer put it down to rustiness. For the first goal, yes he was a tad unlucky that the ball bounced off his back, but he had never truly sorted his feet out and was playing with one eye over his shoulder all game as Messi, Suarez and Neymar buzzed in-between Kompany and Demichelis. The Belgian skipper will regain his sharpness — City hope so, yet after seven games back since his Jan. 18 return it is still missing — but was his less than impressive display against Barca's star attackers a sign of things to come? He is just 28, which means he has at least four years left at the elite level as a center back. But have various hamstring and thigh injuries taken their toll on City's once seemingly indestructible skipper?