Well, that was a fine day of soccer.
Provided you're not a Manchester City fan, there's something quite encouraging for each team — winners and losers — to take away from Tuesday's first leg of the UEFA Champions League's Round of 16.
And even in the case of City, Joe Hart's stoppage time PK denial of Lionel Messi kept the club within a goal, albeit with a Camp Nou-sized mountain to climb next month.
Let's dig in.
Juventus 2-1 Borussia Dortmund – RECAP
So Alvaro Morata's failure to land a space at Real Madrid continues to bear fruit for Italian powerhouse Juventus, as the 22-year-old Spaniard set-up the first goal and scored the second in The Old Lady's 2-1 win over Borussia Dortmund on Tuesday.
And while Juve may've been lucky to have a 2-1 lead at half — Dortmund was strong in possession — the home side was unfortunate not to add to its lead several times in the late goings.
BVB takes away a valuable away goal courtesy of superstar Marco Reus. With the Westfalenstadion looming as the backdrop for the second leg, there's still plenty to come in this tie.
Manchester City 1-2 Barcelona – RECAP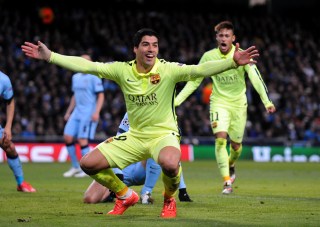 Manuel Pellegrini thought he could play ball with Barcelona straight-up, and was fortunate to only be down by a pair of Luis Suarez goals after a half-hour. Luis Enrique's energized side showed they still have plenty of possession and fire power in the tank, and Lionel Messi was a playmaking wizard for most of the match despite having his late PK saved.
City did, however, look a lot better in the second half, and the addition of Yaya Toure will help (The Ivorian served the final match of a three-game suspension for a UCL red card against CSKA Moscow in the group stage). Will they be able to rebound at the Camp Nou? That's a mighty tall task for the flagship of the City Football Group.
Wednesday
Arsenal vs. Monaco
Bayer Leverkusen vs. Atletico Madrid