Ronald Koeman is a relieved man.
After going 387 minutes without scoring a goal at home, Sadio Mane popped up in the 83rd minute of Southampton's game against Crystal Palace to give them a much-needed win and keep their top four hopes alive.
[ RELATED: Saints beat Palace ]
True, this was far from their most-impressive performance of the season as they once again looked lackluster in front of goal despite dominating possession and Palace can feel hard done by to not grab a point, but at the final whistle Saints' players and their fans rejoiced as their first win in five games sees them go into a 10-day break high on confidence.
Speaking to BBC Radio Solent after the game, Koeman believes that the win was "one of the key moments of the season" as the pressure has eased on his squad. He also had the following to say about Saints' win:
"We didn't have that total confidence against Palace who were very organised. It was tough to create and score. It wasn't the best game we have played this season, we were more lucky than in the last few weeks but they deserved this result. It's not easy when you are struggling as a football player, I know that. Finally, it is three points that makes the situation a little more comfortable.

"It was crucial game to win today, now we have 10 days until the Chelsea game and it makes the situation a lot more comfortable and I hope they will get total confidence back and play like we did before."
With the victory Saints are now back up to fifth place and are just two points behind third-placed Arsenal and one point behind Manchester United in fourth. Granted, both those teams play on Wednesday, but with 10 games to go Koeman's boys are still in the hunt for a UEFA Champions League spot. It's quite remarkable.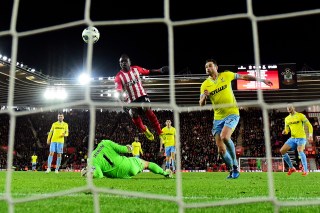 At the end of the season, we may well look back at Mane's scrappy late goal at home to Palace on a cold Tuesday evening at the start of March as a catalyst for yet another revival.
Saints' players and staff will now head to Switzerland, the home country of their owner, Katharina Liebherr, for a week-long team building trip. There will be no cones, balls or whistles. Just plenty of time together to regroup after a tough period and prepare for the final 10 games of what has been a sensational season so far.
Can this crucial win help them kick on and build confidence levels back up to mount a top four charge?
Only time will tell.