QPR has now lost 10-straight London derbies in the Premier League after Olivier Giroud and Alexis Sanchez combined to lift visiting Arsenal to a 2-1 win on Wednesday at Loftus Road.
Charlie Austin pulled back a late goal for QPR, but the side could climb no closer and remain 18th in the Premier League on 22 points.
The Gunners keep pace with the winning top four, staying a point ahead of Manchester United for third place.
[ RELATED: Watch full match replays ]
Chris Ramsey's QPR side had the better of the first quarter-hour, with Charlie Austin spearheading the R's attack.
The advantage continued with Austin hitting a hard shot at David Ospina in the 22nd, but the Arsenal keeper was in position to catch the ball.
Gunners wizard Santi Cazorla provided the best chance of the half for Arsenal, with a 1-2 good for the eyes but not for the finish.
[ RELATED: Latest Premier League standings ]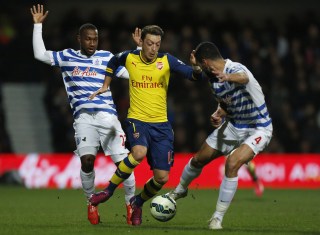 Arsenal took the lead in the 65th minute, when Cazorla created a chance for Tomas Rosicky that didn't get by Robert Green. The rebound, however, was poked in by a sliding Giroud.
It's five goals in his last five games for the Frenchman.
Under four minutes later, Sanchez hit a low ball in the six through two defenders and Green to make it 2-0.
Then Arsenal allowed Austin the time to collect a cross, turn and take a touch before beating Ospina to give the match some life in the 82nd minute.
LINEUPS
Queens Park Rangers: Green, Furlong, Caulker, Onuoha (Hill, 45′), Suk-Young, Phillips, Sandro (Kranjcar, 56′), Henry, Hoilett (Isla, 73′), Austin, Zamora.
Goal: Austin (82′)
Arsenal: Ospina, Bellerin, Mertesacker, Gabriel (Koscielny, 37′), Gibbs, Coquelin, Cazorla, Rosicky (Ramsey, 87′), Ozil (Welbeck, 93′), Alexis, Giroud
Goal: Giroud (64′), Sanchez (69′)