Now that the 2015 Major League Soccer season is officially happening and starting on time — yes, they worked out a new Collective Bargaining Agreement — you no longer have to temper your excitement for the 20th season of MLS.
What's that? You say you're not excited for the upcoming MLS season? First off, shame on you. Secondly, let's see if we can give you a few reasons to get excited and really give the idea of becoming an MLS fan a shot this year.
[ MORE: All of PST's MLS previews for 2015 ]
More. New. Stars.
David Villa, Kaka, Sebastian Giovinco, Frank Lampard and Steven Gerrard all join the league this year. While Landon Donovan and Thierry Henry may have left the game for good after the 2014 season, MLS finds itself with no shortage of names to display in bright lights upon the marquee every Friday, Saturday and Sunday, from March to December.
A North American league has North American stars.
It's one thing to spend big money on foreign stars just to create a buzz and garner attention in other parts of the world, but only so many players of that caliber are willing to come to MLS. The rest of the league, outside the 10 or so world-class players, needs to not be roster-fillers, but possess a certain level of star power themselves. And so many do.
Could, say, Clint Dempsey, Lee Nguyen, Graham Zusi, Gyasi Zardes or Chris Wondolowski be considered world-class to a fan of most any European giant? Of course not, but they're legitimate MLS stars. And whatever you think that means — I'm talking to you, the MLS sucks crowd — they put star performances week in and week out, leaving fans and unbiased onlookers alike, saying, "Wow."
Oh yeah, Jozy Altidore, Juan Agudelo, Mix Diskerud, Brek Shea and Sacha Kljestan are all part of the league, too, joining the likes of Dempsey, Michael Bradley and Jermaine Jones, to name a few.
[ FOLLOW: All of PST's MLS coverage | Standings | Stats | Schedule ]
The league is growing. Still.
Without New York City FC and Orlando City SC, 2015's expansion duo, we wouldn't be able to watch Villa, Lampard, Diskerud or Kaka play on these here shores every week. So, thanks to you, newbies.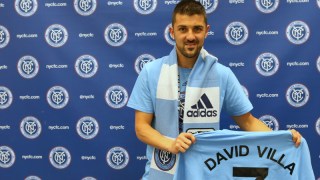 There's also Atlanta and a second team in Los Angeles set to join in 2017, and they'll surely splash the cash on superstars of their own, adding to the embarrassment of riches MLS currently claims. If David Beckham can ever get his Miami project off the ground, look out, because he's probably still got a few friends in the game.
The rest of the world is taking notice.
Just last month, MLS and British broadcast behemoth Sky Sports announced a four-year deal to air a number of MLS games in the UK each week. On Thursday, MLS and European broadcast company Eurosport announced a similar four-year deal to show MLS games across Europe.
Not only are European countries sending MLS their players, but they're also consuming the product, while will only raise MLS's profile abroad, which will only draw more players to the league. It's a not-so-vicious circle of soccer.
If it's good enough for the rest of the world to take notice, then it's good enough for all of us, too. Besides, if you live in the United States or Canada, it's your domestic league. If you care about the sport in either country, the best thing you can do is support the local product.