CHELSEA STILL HAVE EDGE IN TITLE TUSSLE
Speaking after Chelsea's 1-0 win at West Ham United on Wednesday, which kept them five points clear of Manchester City in the title race with a game in hand, Jose Mourinho was a relieved man.
[ RELATED: Mourinho says Chelsea "were brothers on the pitch" in win ]
In a week which saw his side overcome suspensions to win a tiring League Cup final at Wembley last Sunday and then head to Upton Park to play a direct Sam Allardyce outfit, Mourinho had the following to say as his side ground out victory after surviving a second half onslaught.
"The way they play, nobody is better than them," Mourinho said of West Ham. "They are the best at the way they play. It is not just to play football, the pressure, the tension and the emotion, my players were fantastic. We couldn't kill the game and these three points are massive for us. I told the referee is it very difficult to be a ref here, because of the style of their game. Lots of long balls. West Ham had lots of balls in the box, very difficult, very intense and really difficult for the referee."

Mourinho then hailed Hazard and called the Belgian wingers display "fantastic" before reflecting on a total team performance which keeps the Blues on course to win their first Premier League title since 2010.

"My team were brothers on the pitch and that is important if you are to win the most difficult league in the world," Mourinho said. "I want to sleep tomorrow until midday. Today easily you lose two points."
If Chelsea win their game in hand, they will go eight points clear of Man City, who stumbled to an unconvincing 2-0 win over Leicester City on Wednesday.
[ RELATED: Watch full match replays ]
Manuel Pellegrini is persisting with the 4-4-2 system — which we lambasted in Playback earlier this week — but his latest striker to play in that role, $42 million man Wilfried Bony, had a shocker as he missed several chances and should have had a penalty kick called against him.
Right now, Chelsea's "brothers" have the momentum in the title race and with 10 games to go it would take a brave man to bet against Mourinho delivering their first Premier League trophy since 2010.
Below is all the action from Week 28 in the PL, as the midweek matches did not disappoint.
Premier League Schedule – Week 28

TOP FOUR PICTURE: BIG BOYS DO BATTLE
Well, well, well. The race for the title may well be a two-horse race, but the contenders for the top four continue to shuffle as five teams are still fighting for the third and fourth.
[ RELATED: Latest PL standings ]
Arsenal, Manchester United, Liverpool, Southampton and Tottenham Hotspur are the teams in question, with all five at varying levels as we enter the business end of the season. In fact during the midweek madness, the top seven in the PL all won their respective games as their quality begins to shine through when it matters most.
[ VIDEO: Premier League highlights ]
Liverpool are the clear favorites to clinch a top four spot, as the Reds have rallied from absolutely nowhere to lose just once in their last 18 matches and have won seven of their last 10 PL matches. Incredible. Jordan Henderson has scored two screamers in the last two games, Philippe Coutinho is pulling all the strings and Brendan Rodgers suddenly has an embarrassment of riches going forward with Daniel Sturridge, Raheem Sterling and Mario Balotelli to call on.
The Gunners, despite their Champions League wobble against Monaco are also red-hot as they've won eight of their last 10, while Manchester United dug deep away from home to remain in the top four with 10 games to go.
United are the intriguing team in this conundrum. Louis van Gaal's side have yet to hit top form this season… and we only have 10 games to go. The Red Devils have a tough run of games coming up, with trips to Liverpool, Chelsea and Everton to negotiate plus the Manchester derby and a crucial game against Tottenham Hotspur next up at Old Trafford. LVG's boys can no longer coast. They must beat the teams around them.
[ RELATED: Standings | videos | schedule ] 
As for those sides, both Tottenham and Southampton are still right in there. Saints sit in sixth on 49 points as they finally found their shooting boots, while Spurs saw off Swansea as they bounced back from losing the League Cup final to Chelsea. Take a look at the table below and check the schedule above.
Who would you pick to finish in the top four?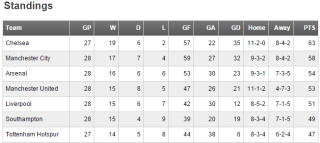 RELEGATION PICTURE: LEICESTER CAST AWAY, TOFFEES STUCK
Poor old Leicester City. The newly-promoted Foxes look to be heading back in the opposite direction as they must realistically win eight of their final 11 matches to survive the drop. Plus get help from others.
Against Man City in midweek they did what they have done for most of the season. Stuck in games, come close to taking the lead or equalizing but then succumb to that extra piece of quality or luck that bigger, more established PL clubs seem to be getting far too often against them. When you are down the bottom, "thems the breaks."
[ RELATED: Martinez ready for "10 cup finals" ]
So, with just 18 points from 28 games so far and seven points from safety, the Foxes seem to be spiralling towards English soccer's second-tier. But could Everton, who finished fifth last term in the PL, be joining them?
Roberto Martinez's men will probably be fine, and you could put this season of struggle down to their progression to the last 16 of the Europa League, but still… The Toffees lost to Stoke City 2-0 on Wednesday and have won just six of their 28 games this season. They sit on 28 points, six points above the drop zone, but if QPR win their game in hand then they are within three points of the bottom three. Make no mistake about it, the Toffees are expecting a nervous last few months of the season. Martinez knows it.
"I did feel that as a team we showed we had played a number of matches in a short period of time," Martinez admitted after the defeat at Stoke. "The Europa League campaign is a bit obvious at the moment as it is a lot of games to play in a short period but as a club that is what we want, to play in Europe. The concern is a huge moment in the season, we have 10 games and we will treat them as finals. We are in this situation for many reasons but we are looking forward and up to get as high up in the table as we can."
Everton are going to "face the challenge straight on" but the old adage we often hear around this time of the season that: 'oh, they are too good to go down' definitely applies to the Toffees. Stranger things have happened in the past…
As for the other relegation candidates, QPR are battling away and almost nicked a point against Arsenal, while Burnley lost their fourth-straight match as the goals have dried up for Sean Dyche's side. Hull City and Sunderland's managers fought on the touchline on Tuesday, more on that here, and they are both scrapping for survival.
Aston Villa snapped their seven-game losing streak to win for the first time under new boss Tim Sherwood on Tuesday, as the video below encapsulates what a huge moment Christian Benteke's last-minute spot kick may be as the Villains climbed out of the bottom three by beating West Brom. As for the Baggies, they aren't out of it either, as there's a huge scramble for survival that promises to get nastier as the plot thicken between now and May 24.
ASSESSING OUR PREDICTIONS…
Ah, the preseason predictions. With 10 games to go, it seems like a good time to drag these bad boys up from the depths. Cast your minds back to August, 2014.
[ VIDEO: PST Extra previews the 2014-15 season ] 
The World Cup hangover had just about dissipated, birds were chirping and the fresh smell of charcoal from your neighbors latest grill session was wafting in through the screen doors. But, most importantly, our experts here at PST put their necks on the line at the start of the season to let you know how the Premier League standings will look at the end of the 2014-15 season. So, how are things looking?