"If you don't like the standings in the Championship, wait a week, they'll change."
That's how that old saying goes, right? OK, maybe not quite, but people should say that, because if you remember last week's Championship Promotion Watch, you remember a tale of sorrow for Bournemouth, and who led the league for much of the season, and a tale of joy on the precipice of triumph for Middlesbrough.
[ MORE: Saturday's FA Cup roundup ]
Fast forward seven days, and the top of the Championship is all mixed up.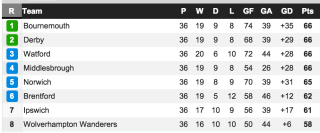 6-for-6 for Bournemouth
The momentum teams can generate in the Championship is incredible. With two games nearly every week, one win turns into two turns into three in the blink of an eye. After no wins in five league games, Bournemouth bounced back with victories over Huddersfield and Fulham. Just like that, Eddie Howe's men go from fourth to first. Blackpool (24th) and Cardiff (15th) are up next.
Win just once, fall from 2nd to 4th
Boro beat Millwall mid-week, but feel to Nottingham Forest on the weekend, and this time of year three points out of six is likely to see your side tumble in the standings. Aitor Karanka's men fell to fourth this week, but the beautiful thing about this league is, win your next and you'll move right back up. Tough tests against Ipswich and Derby await.
Brentford leapfrog Ipswich for final playoff place
Brentford took care of business against Huddersfield and held playoff-chasing Ipswich to a 1-1 draw this week, which was good enough to leapfrog the previously-fifth-placed side who tumble out of the playoff places, and snatch the last remaining spot, for the time being. Up next for Brentford it's Cardiff and Blackburn (11th), while Ipswich have Boro and Bolton (17th).