LONDON — Tottenham Hotspur bounced back from a demoralizing week to grind out a valuable 2-1 win at Queens Park Rangers on Saturday, as they have set up a titanic tussle with Manchester United at Old Trafford next Sunday (Watch Live, 12 p.m. ET on NBCSN and online via Live Extra).
[ RELATED: Three things we learned ]
Harry Kane's double at Loftus Road (his 25th and 26th goals of the season in all competitions) did the damage, as Spurs sit sixth with 10 games to go and are just three points off fourth placed United in the race for the UEFA Champions League.
[ RELATED: Watch full match replays ]
Speaking about that monster trip to Old Trafford on March 15, two-goal hero Kane believes his side must get better at killing games off but is enjoying his time as the darling of White Hart Lane as he leads their top four charge.
"It's a massive win, we always seem to be winning 2-1. We looked in control, but we looked in control the other night and Hugo Lloris had to make a big save. So we have to improve in killing teams off," Kane said. "I'm loving my football, being out there with my team-mates and my mates. I feel good and confident, it's important for a striker to have that. The second goal was a nice composed finish. There are a lot of top teams up there [competing for the top four] and whoever can put a run together will be right up there. That's what we are hoping to do and it's a big game at Old Trafford next week."
[ RELATED: Latest Premier League standings ]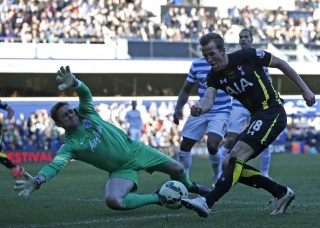 Ahead of that big game against Manchester United, Pochettino revealed that he was pleased with his sides resilience after being knocked out of the Europa League to Fiorentina and losing in the League Cup final to Chelsea in their previous two matches. Spurs were up against it early on and late in the game against a direct QPR outfit, but dug deep to keep themselves firmly in the top four race.
"The reaction after going out of Europe has been fantastic," Pochettino said. "It was difficult after the defeat against Fiorentina. I think the response has been fantastic from the squad in the big games that have followed. We have to go away and now train hard to focus on our next match against Manchester United."
[ VIDEO: Premier League highlights ]
Ahead of that game against United, I asked Pochettino if he was concerned that his side are performing well but failing to kill teams off. Spurs hit the post through Christian Eriksen and went close several times in the second half on Sunday, but QPR came almost equalized late on.
"You always want to close the game and kill the game before if you have chances like we did in the second half," Pochettino said. "But we are still young and the team need to improve. We are in a good process and developing our philosophy. I think that we can improve more in the next 10 games."
If they do improve as Pochettino hopes, expect Spurs to finish in the top four. Between now and May 24, Spurs face Manchester United, Southampton and Manchester City in a favorable looking run-in compared to their contenders for the Champions League places.