KANSAS CITY, Kan. — Following Sporting Kansas City's 1-1 draw with the New York Red Bulls (full highlights above), it's safe to say both sides are far from finished products as Week 1 of the 2015 Major League Soccer season draws to a close.
[ FOLLOW: All of PST's Week 1 MLS coverage | Standings | Stats | Schedule ]
Sunday night taught us a lot about both Sporting KC, as head coach Peter Vermes attempts to re-boot an already-accomplished side and return it to MLS Cup glory, and the New York Red Bulls, as Jesse Marsch looks to assemble his new team in a mold of his own.
THE FEILHABER-ESPINOZA DOUBLE PIVOT IS A WORK IN PROGRESS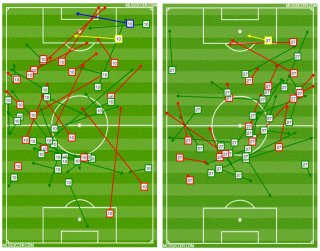 Those are Feilhaber and Espinoza's passing diagrams. That's a whole lot of red (65 percent completed) for two midfielders of their caliber, and with such a high defensive line behind them, it's going to have to be much better going forward. In mid-season form, Felipe and/or Dax McCarty feed Bradley Wright-Phillips a better ball in behind the backline, and he's finishing the one-on-one chance.
[ READ: All of PST's 2015 team-by-team MLS previews ]
They also struggled positionally in defense, particularly in transition. The tendency for both players is to get forward, press high and always remain active. They did just that in the build-up to Lloyd Sam's equalizing goal, and it cost them two points.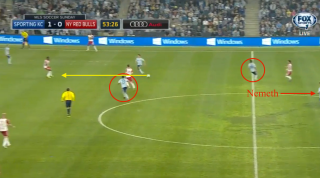 That's with the ball en route from Felipe to Sam. Notice where Krisztian Nemeth, the third central midfielder, is. Because he leaves such a gap in the center of the field, Feilhaber (right) and Espinoza (left) push forward to fill the void. Let's have a look at what that leaves Sporting with defensively once Lloyd receives the pass.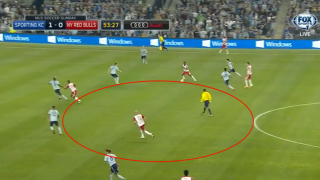 The answer: acres of space. Matt Besler rightly steps up to challenge Sam, but already on a yellow card, he can't blow the play up with a firm tackle. Instead, Sam skates by Besler, turns him at the top of the penalty area and applies the perfect finish. Basically, soccer is dominoes, and one of Feilhaber or Espinoza has to be content to sit deep when the other presses forward, no matter the situation. They'll get it because they're both elite MLS players, but it'll take a bit of gelling first.
All that said, Feilhaber was still the best player on the field. The above criticisms say a lot about how good he's been for 18 months now, that I expect him to be near perfect every time out.
LIFE IS GOING TO BE A LITTLE TOUGHER FOR BWP IN 2015
Life was pretty good for Wright-Phillips when he had Thierry Henry feeding him five, 10, 15 or 20 golden goalscoring chances each game. So great, in fact, he managed to score 27 goals in 2014. Now, that's not to say Henry was the lone maker of BWP's historic goalscoring run, but it's going to take all sorts of different contributions from BWP this year if the Red Bulls are to make the playoffs.
Tha's Felipe's passing diagram. It's actually pretty good (80 percent completed), but notice all of one pass completed into the final third. If that's Henry hitting balls forward for BWP, at least half are complete and probably a couple in the back of the net, given Sporting's high line.
I fear the Red Bull attack is going to struggle this season, unless/until BWP finds a way to be a bigger part of the build-up. Chances are going to be few and far between otherwise, and he'll have to strike near perfect all year to put up his numbers.
MATT BESLER HASN'T LOOKED HIMSELF FOR NEARLY A YEAR
Look, I don't know if it's time to start asking, What's wrong with Matt Besler (I don't think it is), but he's not been great since before the World Cup last year. And it's not the "mistake" that led to the goal, or even the two yellow cards that got him sent off. It's the little things at which Besler used to excel — practically to perfection — that haven't been…right…for a while.
[ MORE: Kaka, Diskerud score as Orlando City, NYCFC draw in dual-debut ]
No doubt the absence of a true defensive midfielder shielding the back four has hurt the entire defense since Uri Rosell was sold in May 2014 — and Besler has often taken upon himself the responsibility to step forward and fill the void — he's just not looked the same confident, never-puts-a-foot-wrong defensive commander I watched week in and week out from 2011 to early-2014.
We'll leave it at that for now and see what the next few weeks look like before we go sounding any imaginary alarm.