Thomas Muller scored twice and Bayern Munich rolled to the UEFA Champions League quarterfinals with a 7-0 win over 10-man Shakhtar Donetsk at the Allianz Arena on Wednesday.
Holger Badstuber, Franck Ribery, Mario Gotze and Jerome Boateng also scored for Bayern Munich in the win.
The first leg finished 0-0 in Ukraine, but hopes of a seismic upset were dashed by an early red card.
[ RELATED: Champions League schedule ]
A third-minute penalty call featured a red card for Oleksandr Kucher, who took down Mario Gotze in the box. We're unsure about the red, but a yellow and PK for sure.
Thomas Muller calmly curled his PK past the keeper to give the hosts a 1-0 edge.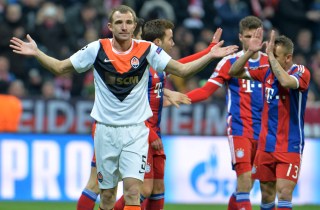 Muller then beat his man and chipped a pass over the diving Pyatov that was oh-so-close to meeting Arjen Robben's back-post run. No dice.
Lewandowski had a very threatening header ping off the afar post in the 24th minute, and it seemed only a matter of time before the floodgates would open, Germany v. Brazil style.
Pyatov kept several attacks at bay, including a stop through traffic on Franck Ribery.
Boateng made sure it was all but certain in the 33rd minute when he tapped in a Lewandowski rebound in tight.
This is a stat:
Schweinsteiger has completed 56 of his 57 passes against #Shakhtar http://t.co/xPAEMBGCCX pic.twitter.com/K9nc50nx1A

— Match Zone (@MailMatchZone) March 11, 2015
Ribery made it 3-0 just after halftime, working a 1-2 with Boateng before hitting a low ball past Pyatov. And Muller added a second 90 seconds later. Badstuber added a header off Pyatov's left mitt in the 63rd minute, and Lewandowski got in on the scoring in the 75th with a breakaway goal.
Gotze scored, too.
LINEUPS
Bayern Munich: Neuer, Boateng, Badstuber (Dante, 67′), Alaba, Rafinha, Schweinsteiger, Gotze, Muller, Ribery (Bernat, 59′), Robben (Rode, 19′), Lewandowski
Goals: Muller (PK 4′, 51′), Boateng (34′), Ribery (49′), Badstuber (63′), Lewandowski (75′), Gotze (88′)
Shakhtar Donetsk: Pyatov, Srna, Kucher, Rakitskiy, Shevchuk, Fred, Stepanenko, Costa (Nem, 79′), Teixeira (Ilsinho, 70′), Taison (Kryvtsov, 9′), Adriano.