We just watched one of the most entertaining matches in soccer history. There aren't many words to describe it, but we'll try.
Despite an early red card, Paris Saint-Germain rallied to beat hosts Chelsea and advance to the UEFA Champions League quarterfinals with a 2-2 extra time draw at Stamford Bridge.
[ RELATED: Champions League schedule ]
Eden Hazard converted a 96th minute penalty after Thiago Silva's theatrically-poor handball, but Silva headed the 'winner' home in the 114th minute to pull the Ligue 1 side through.
Bjorn Kuipers gave a red card to Zlatan Ibrahimovic (WATCH and VOTE here) in the 33rd minute after a controversial collision with Oscar, and Chelsea got an 81st minute goal from Gary Cahill. Ex-Chelsea man David Luiz sent the match into extra time with a powerful header in the 86th.
Regardless of who won, Kuipers had a stunningly poor day. At least he was consistent in making baffling decisions. Kuipers has given a red card in three-straight UCL matches, and this one came after Jose Mourinho set the "dirty PSG" narrative on Tuesday (correlation, not causation).
Jose Mourinho will rue his tactics for the final hour of regulation, as he sat back against a 10-man PSG side.
PSG began the match with cutting runs and effective movement toward the Chelsea goal, but Thibault Courtois collected a second minute corner and Chelsea began its own attack.
Marco Verratti earned cries for a penalty when Chelsea back Kurt Zouma collided with him in the 18, but no such luck was headed PSG's way.
[ RELATED: Premier League schedule ]
And then Chelsea caught a major break, as Ibrahimovic was given a red card for a late slide on Oscar that was hardly worthy of a red.
With the match 0-0 at halftime, Chelsea controlled the ball but took few risks at the outset of the second half. Their away goal would hold up in the case of a 0-0 draw.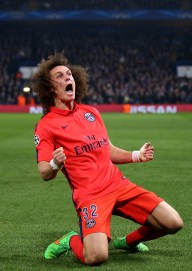 But Edinson Cavani almost shocked the system with a brilliant run and touch around Courtois before an awkward touch pushed him towards a tight-angled shot that hit the post.
Oddly enough, it was 10-man PSG that had chance after chance as the game entered its final half-hour, but seemed hesitant to get solid strikes at Courtois.
Then Cahill picked up Diego Costa's flubbed volley out of the air and hammered it past Salvatore Sirigu to give Chelsea a cushion.
[ RELATED: Europa League schedule ]
All said, Courtois may've been the Man of the Match, keeping a clean sheet against a desperate Parisian side.
But then…. Luiz! The former Chelsea sweeper headed a cross past Courtois in the 86th minute, and Mourinho's side was in danger of a horrific collapse.
To extra time, where Didier Drogba entered for Ramires as Mourinho poured the gas on 10-man PSG. But it was Hazard who would put Chelsea in front with a PK after Thiago Silva leapt with two arms in the air to combat Zouma, touching the ball before the Blues defender headed it.
Courtois made a strong save in the 101st minute when he dove back to tap Luiz's free kick over the bar.
LINEUPS
Chelsea: Courtois; Ivanovic, Cahill, Terry (c), Azpilicueta; Fabregas, Matic (Zouma, 84′); Ramires (Drogba, 90′), Oscar (Willian, 46′), Hazard; Diego Costa
Goal: Cahill (81′), Hazard (PK, 96′)
PSG: Sirigu; Marquinhos, David Luiz, Thiago Silva, Maxwell; Verratti (Lavezzi, 83′), Motta, Matuidi (Rabiot, 84′); Cavani, Ibrahimovic, Pastore (Van der Wiel, 117′)
Goals: Luiz (86′), Silva (114′)