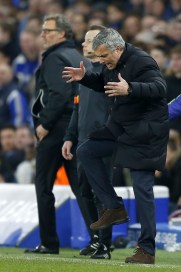 Chelsea manager Jose Mourinho has a lot of explaining to do after his club was ousted from the UEFA Champions League at home by 10-man Paris Saint-Germain on Wednesday.
Despite an early red card to Zlatan Ibrahimovic, Mourinho's did not push the pace. Instead they appeared content to sit on their away goal from last month's 1-1 draw in France.
[ MORE: Match recap | Luiz's emotional tie ]
And it almost paid off once Gary Cahill scored in the 81st minute. Almost doesn't count, of course, as David Luiz and Thiago Silva scored in regulation and extra time to push PSG through on away goals.
From the BBC:
"We tried to win but the moment we had 10 men we felt too much that pressure," Mourinho said.
Which is an odd thing to say, I'd proffer, but Mourinho certainly went after PSG's physical play and stall tactics with some other quotes that are a little more typical of what fans expect from The Special One.
From the BBC:
"They were aggressive, what we used to call clever on the continent. In England that is not accepted as clever. They did what they did, after the second goal there was no more game. Simulation of injuries, they stopped completely the game.

"It is the beauty of English football but in continental football the other teams are more prepared to cope with the mental side. I wouldn't say dirty but the other side."
That's a batch of sour grapes from Mourinho. He is a football genius, but he out-thought himself with conservative tactics while playing 11v10. PSG rallied around their red card and picked up an instant classic win. Chelsea closed up shop and couldn't recover.
[ MORE: Three things ]
Kudos to PSG boss Laurent Blanc, whose only tactics were desperation. That can't be mimicked, and Mourinho seemed to allude to that as well.