Things are tight on the Bundesliga table, at least between spots No. 3 and 9, as well as the relegation battlers.
Bayern Munich continues to power its way toward another German title, this time pouring forth goals at the Weserstadion in Bremn on Saturday.
[ VIDEO: Messi's magic dribble vs. Eibar ]
Werder Bremen 0-4 Bayern Munich
After winning 7-0 at home to Shakhtar Donetsk in the UEFA Champions League this week, Pep Guardiola's boys let off the gas in only putting four past Werder Bremen on Saturday.
The Bundesliga's top side increased its table lead to 14 points before Wolfsburg and Freiburg tangle on Sunday behind a pair of goals from Robert Lewandowski and stunners from Thomas Muller and David Alaba.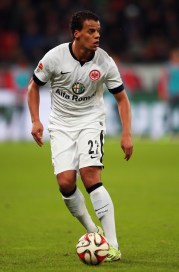 Eintracht Frankfurt 4-0 Paderborn
Four different players scored as the hosts cruised past Paderborn on Saturday, with the newly-promoted visitors in the relegation playoff spot, 16th.
Alexander Meier started the scoring in the 27th minute, and USMNT veteran Timothy Chandler (right) went 90 minutes as an effective and active right back. Chandler made 62 runs and was credited with 79 touches, second-best in the match to teammate Bastian Oczipka.
Eintracht is in 8th place, seven points back of fourth place.
Hertha Berlin 2-2 Schalke
USMNT center back John Anthony Brooks went the entire 90 and completed the second-most passes on his team as Hertha Berlin barely escaped with a home point against Schalke despite holding two leads on the day. Brooks was arguably responsible for both Schalke goals.
Anis Ben-Hatira (above left, with Brooks) scored in the 21st minute before Leroy Sane equalized for Schalke before halftime. Genki Haraguchi looked to have lifted Hertha in the 81st minute, but Joel Matip scored at the death to keep the visitors within three points of third place. Brooks' boys are four points clear of the drop and three clear of the relegation playoff slot.
Elsewhere
Bayer Leverkusen 4-0 Stuttgart — Josip Drmic nets fifth and sixth of year.
Hoffenheim 3-0 Hamburger SV — Eugen Polanski scores in both halves for 7th side.
Augsburg 0-2 Mainz — Shinji Okazaki and Ja-Cheol Koo score in win.
Borussia Dortmund 0-0 Koln — BVB's late Europe charge slowed by Billy Goats.
Wolfsburg vs. Freiburg — 10:30 a.m. ET Sunday
Borussia Monchengladbach vs. Hannover — 12:30 p.m. ET Sunday