LONDON – After drawing 1-1 with Southampton on Sunday, Jose Mourinho's Chelsea extended their lead at the top of the Premier League to six points with a game in hand over Manchester City but their display was far from convincing against Saints as cracks appeared throughout.
[ RELATED: Three things we learned ]
Chelsea are the Premier League champions elect but Mourinho admitted afterwards that not only Man City, but Arsenal are now contenders for the title with the Gunners just seven points back.
"Of course," Mourinho said of Arsenal being in the title race. "They are seven points behind Chelsea and they have one less match to play than Chelsea. I keep thinking that our position is better than them but I think so. More teams are in the race."
Mourinho was then asked if Arsenal are now bigger threats to Chelsea's title hopes than Manchester City, due to their recent momentum.
"Which momentum? 3-1 defeat to Monaco or 3-0 win over West Ham?" Mourinho smiled. "It depends on the momentum… We have six points more, seven points more and nine points more and one game more to play. Obviously our situation is a much better situation. It is not easy. Every match is difficult. If you remember both games against Southampton, in one game [we conceded] one penalty that is not a penalty, in one game a penalty which is not given. So you are speaking about six points transformed into two points but the danger is always here. We are there, if somebody told me last August that at the end of March we are six points in front and one match in hand, I would sign for that immediately. No doubts."
As for the here and the now, Chelsea's midfield was badly overrun by the excellent Southampton duo of Morgan Schneiderlin and Victor Wanyama on Sunday, with Nemanja Matic giving away a penalty kick (plus he was lucky to stay on the field after a foul on Sadio Mane which deserved a second yellow card) and Cesc Fabregas putting in a lethargic display.
[ RELATED: Watch full match replays ]
The Blues looked hungover from their UEFA Champions League exit at the hands of Paris Saint-Germain on Wednesday. Mourinho praised the performance of his side but was unhappy with the result and also felt his side could have a penalty in the first half when Branislav Ivanovic was fouled.
"There are two perspectives and I have both with me," Mourinho said. "I am not happy with the result but I am happy with performance and the six points lead. I am not jumping with happiness and I am not crying with disappointment."
[ RELATED: Latest Premier League standings ]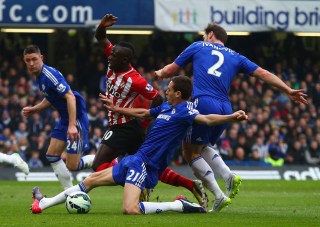 With Mane in particular running Chelsea's backline ragged in a role as a withdrawn striker, John Terry and Gary Cahill had a terrible time trying to contain the Senegalese attacker.
"It was a big problem for them in the first half and that was the reason we changed the system and put Shane [Long] in front," Saints boss Ronald Koeman told ProSoccerTalk afterwards. "We knew we would get some space behind the defense of Chelsea and the way how Sadio played in-between the lines and behind Shane makes it very difficult for them. He showed very good qualities."
As for Saints, they momentarily moved up to sixth with the point and had they been more clinical in the first half they could have been leaving Stamford Bridge with a famous win.
"We had a fantastic reaction after going 1-0 down in the game and played very good football," Koeman said. "We deserved to score at least one time, maybe we had some good chances to score the 2-1 [in the first half]. We had good ball possession but I think that was a little bit the problem in the second half."
[ VIDEO: Premier League highlights ]
But, in all honesty, a draw was probably a fair result as Fraser Forster pulled off at least three stunning reflex saves late on as Southampton's defense held firm despite intense pressure from Chelsea.
"To get a result against them you need luck," Koeman said. "You need a great goalkeeper and a great organization in the team and we had that today. I am proud of the team and how we played and how we showed our character today. It gives a good feeling for the last nine games that we have."
With 34 efforts on goal and a match which ebbed and flowed from end to end, Chelsea showed signs that the title race is not over and Saints continue to progress with nine games of the season to go. Mourinho believed Saints' first half penalty was unjust, while Koeman was adamant that his side deserved the spot kick. Overall, a draw was a fair result in a pulsating clash.
"I think the penalty changed the rest of the first half, the players felt it and stopped to play," Mourinho said. "We made a few mistakes and they scared in a couple of dangerous counter attacks. In the second half, especially from the moment Ramires came on, we killed their counter attack. After that we had complete control of the game and created lots of chances to win the game but we didn't."