THREE OR FOUR HORSE RACE FOR THE CROWN?
It was moving weekend at the top of the Premier League table in Week 29 as Chelsea stalled, Manchester City's slide continued, plus Arsenal and Manchester United are lurking ominously in the shadows.
[ RELATED: Three things we learned from Chelsea, Saints ]
Speaking after his teams 1-1 draw with Southampton on Sunday, Chelsea boss Jose Mourinho admitted that it is no longer two-horse race for the PL title and that Arsenal are in it. It's hard to disagree with him.
"Of course," Mourinho said when asked of Arsenal were in the title race. "They are seven points behind Chelsea and they have one less match to play than Chelsea. I keep thinking that our position is better than them, but I think so [they are in the title race]. More teams are in the race."
Predicting the title race…
| Chelsea | Man City | Arsenal | Man United |
| --- | --- | --- | --- |
| Hull City 3-1 W | WBA 3-1 W | Newcastle 1-2 W | Liverpool 1-2 L |
| Stoke City 2-0 W | Palace 2-0 W | Liverpool 2-1 W | Villa 3-1 W |
| QPR 1-1 D | Man Utd 2-1 W | Burnley 3-1 W | Man City 1-2 L |
| Man Utd 1-0 W | W. Ham 3-1 W | Sunderland 1-1 D | Chelsea 0-1 L |
| Arsenal 1-2 L | Villa 3-0 W | Chelsea 2-1 W | Everton 2-1 W |
| Leicester 3-1 W | Spurs 2-2 D | Hull 2-0 W | WBA 3-0 W |
| Palace 2-2 D | QPR 3-0 W | Swansea 3-1 W | Palace 3-1 W |
| Liverpool 1-1 D | Swansea 2-1 W | Man Utd 1-2 L | Arsenal 2-1 W |
| WBA 3-1 W | Saints 2-0 W | WBA 3-0 W |  Hull 2-0 W |
| Sunderland 2-0 W | | | |
| | | | |
| Total points = 85 |  Total points = 83 |  Total points = 79 |  Total points = 74 |
So, let's look at the run-in for all four teams who could realistically win the title even if Chelsea seem to have things sewn up try. Trying to decipher where each time will finish where when all is said and done on May 24 is tough but above are theoretical results for the final nine games (10 games in Chelsea's case) of the season for each team, plus their final points tally. What do you think?
[ RELATED: Watch full match replays ]
To me, that seems about right. Maybe I am a little harsh on Chelsea and believing that Man City will not lose again this season following their shock defeat at Burnley on Saturday seems a little silly, but I tried to look at each game objectively and that's how I see things panning out. Chelsea are stumbling slightly, as their draw against Saints showed as key players like Cesc Fabregas, Nemanja Matic and Diego Costa looked jaded after their UEFA Champions League exit at the hands of PSG last week. Chelsea are still the heavy favorites to win the title but as we often see, things can change very quickly in the PL.
[ RELATED: Latest Premier League standings ]
The big threat to the top two is Arsenal. Can the Gunners keep this great run going? On Saturday they were at their creative best and tore apart West Ham in a 3-0 win which came courtesy of three sexy goals. The Gunners have won eight-straight at home, their best run for over 10 years, and are hitting top form at the right moment with a favorable schedule to come. If only they hadn't had that wobble in the middle of the season, if only…
POYET OUT, PELLEGRINI NEXT?
On Monday Gus Poyet was given his marching orders after 18-months in charge of Sunderland and became the fourth managerial casualty of the season. The Uruguayan coach brought plenty of passion to the job at the Stadium of Light but not much progress.
[ RELATED: Poyet out as Sunderland boss ]
When the former Chelsea and Spurs midfielder took over in October 2013 the Black Cats were bottom of the table. Now, on the day he was fired, they are fourth from bottom and just one point above the relegation zone. You can't argue with the decision to fire Poyet as Sunderland has won just four games all season in the PL, have won just one in their last 12 and after the fans left en-masse, tried to attack the bench and booed during the 4-0 drubbing at the hands of fellow relegation strugglers Aston Villa on Saturday, the writing was on the wall for Poyet and his staff.
[ RELATED: Who next for Black Cats? ]
Premier League Schedule – Week 29

Should he take all the blame? Our analysts break that down above, as you get the sense that Poyet could only do so much as the players haven't performed consistently this season. Last year they performed the great escape to stay in the PL and made the League Cup final as Poyet's arrival had a positive impact. But that has worn off and now an experienced head is needed to guide them to safety. Talk of Dutchman Dick Advocaat taking over for the final nine games is rife and he certainly has experience but he has never managed in England. Long-term, somebody like Steve McLaren or Sam Allardyce makes sense but it all depends on which division Sunderland is playing in next season. The way things are going, it won't be the PL. USMNT forward Jozy Altidore did well to get out of the north east when he did…
As for another manager who could be on the chopping block, Man City boss Manuel Pellegrini is under intense pressure ahead of City's UEFA Champions League showdown in Barcelona on Wednesday. The Chilean has spoken about not being under pressure to win trophies every season but with the resources City's owners are pumping in and the title winning team of last season being kept intact, Pellegrini's employers will be disappointed with this season. Make no mistake about it.
[ VIDEO: Premier League highlights ]
The fact that I believe Man City won't lose again this season (look at the table at the very top) tells you that Pellegrini isn't doing that bad of a job. Yes, City lost at newly-promoted Burnley 1-0 on Saturday but it was one of those games where a stunning goal and everything else conspired against them to mean defeat was almost inevitable. That's the beauty of the PL. Sometimes that crazy stuff happens. It looks like City will come up just short in the title race and likely get knocked out of the UCL by a resurgent and very dangerous Barcelona side.
Should that be the reason for Pellegrini to lose his job in just his second season in England? I don't think so but there does seem to be some issues behind the scenes as too many players are out of sorts for the Citizens and Pellegrini will be the fall guy if their slump continues.
ROONEY'S "KNOCKOUT BLOW" SETS UP HUGE CLASH WITH LIVERPOOL
On Sunday morning, hours before Manchester United faced Tottenham Hotspur in a huge clash for the top four, another clash was making the headlines… A video of Wayne Rooney was purchased by the Sun newspaper and went viral as it showed the United and England captain messing around with Stoke right back and former teammate Phil Bardsley as they shadow boxed with gloves on in Rooney's kitchen. In the video Bardsley caught Rooney with a quick left jab and knocked the striker to the floor.
In response to that video being leaked (the actual incident occurred in February) Rooney put in a great display to lead United to a convincing 3-0 win. In the 35th minute against Spurs he landed the knockout blow and celebrated in some style. See the video above, as Rooney had some playful fun with his celebration. Brilliant, cheeky and the type of character we all like to see after an incident filmed in his own home was blown way out of context.
So, that win and Liverpool's win against Swansea sets up a perfect storm at Anfield on Sunday (Watch live, 9:30 a.m. ET on NBCSN and online via Live Extra) as United are currently in fourth place and two points ahead of their bitter rivals.
Liverpool are unbeaten since they lost to Manchester United 3-0 away from home in December and have have won 10 of their last 13 PL matches. Quite remarkable but Rooney and Co. will fancy their chances to play spoiler in the cauldron of Anfield on Sunday and extend their lead in the top four race, as the battle for the UCL promises to go down to the wire.
Below are the standings heading into Week 30 as things are poised perfectly.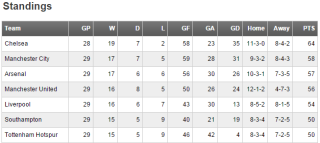 Premier League Playback comes out every Monday as PST's Editor and Lead Writer takes an alternative look at all the action from the weekend. Read the full archive, here.