The great race for MLS expansion continues as North America's top flight is set to expand exponentially in the next decade.
On Monday MLS Commissioner Don Garber released a statement confirming that the league was close to making Minnesota United the league's 24th team — meaning that the goal of making MLS a 24 team league by 2020 will be met at least two to three years earlier than expected — and that the league will reconsider its expansion plans beyond 24 markets.
[ RELATED: Villa nets on NYCFC's home debut ]
With talks currently ongoing with potential expansion cities in Sacramento, San Antonio, St. Louis and Las Vegas, the demand for MLS franchises is rife with 30 teams by 2022 (don't forget LAFC, Atlanta and Miami are coming soon too) a real possibility.
As PST's Andy Edwards pointed out on Monday, there are plenty of potential markets and plenty of options on how to do this. Should MLS split up and realign to three separate conferences to ease travel for teams and create fiercer regional rivalries?
Here's an idea for you: who about two separate divisions called MLS 1 and MLS 2?
Not only would the huge number of fans wanting to see promotion and relegation in the North American soccer pyramid be mildly satisfied, but the owners of MLS club wouldn't be at risk of dropping down to a so-called second or third tier. Revenues would be split evenly across all 30 teams, with extra incentives and prestige given to those clubs in MLS 1. It would help to make MLS more competitive and absorbing with matches between bottom feeders towards the end of the season turning into huge games as they battle against the drop. It's just a thought I have had, and I know others in U.S. media circles have been thinking about this for a little while too.
[ RELATED: MLS could expand past 24 teams ]
So, this is how I would split things up. Create two 15 team divisions with MLS 1 having two automatic relegation spots, then MLS 2 having two automatic promotions spots. Then there would be a playoff system — similar to what they have in Scotland with three teams from MLS 2 and the third from bottom team in MLS 1 entering — to determine who is the final team in MLS 1.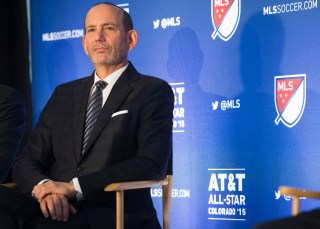 The 15 MLS teams which were already in the league before the expansion round of 2010 would start off in MLS 1 and the 15 teams who joined the league after 2010 would all be in MLS 2. Many would argue that it isn't the fairest way to do it, but right now I think it would be the best way to go about it and reward the MLS originals and at least give them a chance to establish themselves in MLS 1.
In theory, there would be more incentives for owners to spend more money on DPs and use all of the money available in the salary cap. It would also give greater competition for every single game as not only the playoffs but survival would be on the line. Look, this decision would be hugely controversial among MLS owners and officials if every introduced but I'm just throwing it out there as an option as the league is in its 20th year. The likelihood is that it will stay in a single league format, but why not explore other options as MLS continues to grow?
Sure, I am from Europe where the soccer system is based on pyramids and I understand the difference in MLS and the American sports market. But I have also spent a long time living in the U.S. and speaking to many soccer fans, this huge upsurge of interest in the league expanding its horizons could be the perfect way to restructure things and create a two-tier system without muddying the waters between MLS, NASL and USL.
Just a thought. Let me know what you think…