Make no mistake about it, Croatian goalkeeper Danijel Subasic is the reason Arsenal didn't complete a spirited comeback attempt against AS Monaco in the UEFA Champions League on Tuesday.
Subasic's flying stop on Olivier Giroud with less than seven minutes to play helped preserve Monaco's 3-1 lead from the first leg at the Emirates Stadium despite Arsenal's 2-0 win on the day.
Arsenal has now gone five seasons without getting past the Round of 16. Monaco joins Paris Saint-Germain, Real Madrid, Porto and Bayern Munich in the final eight.
[ RELATED: Champions League schedule ]
Arsenal needed to put forth one of its best performances of the year to overcome stingy AS Monaco and advance in the UEFA Champions League, and the Gunners just missed their goal.
The Gunners got it to 3-2 by halftime. Giroud played a spirited match and put in a goal from his own rebound in the 36th minute to give the visitors hope. Arsenal would need two more without conceding once to Monaco.
[ VIDEO: Premier League highlights ]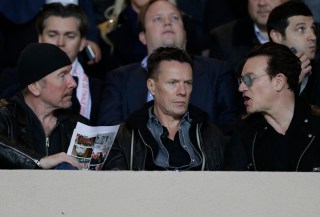 The second half brought some good work from the Gunners, often times foiled by Subasic. His best? A flying 55th minute stop on Mesut Ozil, who had another good chance via a half-volley about 10 minutes later but couldn't convert it into a goal.
The second half looked to be playing out in the hosts' favor when Theo Walcott's rebound smacked off the post and Layvin Kurzawa's clearance  came back out for Ramsey, who drilled a low shot past Subasic to make it even on aggregate. Another goal would win it for the Gunners.
Arsenal carried more than 60 percent possession for most of the match, but Subasic was there so many times. Another massive stop came on a goal line leap to deprive Giroud of a second goal.
U2 was there. The cameras made sure we knew that.
LINEUPS
Monaco: Subasic, Fabinho, Wallace Santos, Abdennour, Kurzawa, Toulalan, Kondogbia, Joao Moutinho, Dirar (Elderson, 86′), Martial (Ferreira-Carrasco, 59′), Berbatov (Bernardo Silva, 70′).
Arsenal: Ospina, Bellerin, Mertesacker, Koscielny, Monreal (Gibbs, 81′), Coquelin (Ramsey, 62′), Cazorla, Ozil, Welbeck (Walcott, 71′), Sanchez, Giroud.
Goal: Giroud (36), Ramsey (79′)