The quarterfinals are all set for the UEFA Champions League, as Wednesday found Barcelona and Juventus clinching slots alongside Atletico Madrid, Bayern Munich, Real Madrid, Porto, Paris Saint-Germain and AS Monaco.
How did the Blaugranas and The Old Lady seal their spots?
[ MORE: What are the quarterfinal dream draws? ]
Glad you asked.
Barcelona 1-0 (3-1) Manchester City — RECAP
Manchester City goalkeeper Joe Hart was the — pun intended — heartbeat of a moribund club on Wednesday, making myriad saves to keep his club in the match.
In the end, however, it was an early Ivan Rakitic goal and an out-worked and out-styled midfielder that cost England its final team in the UEFA Champions League. Lionel Messi, Luis Suarez and Neymar tested the City frame with reckless abandon but could only slot one home.
Meanwhile, City couldn't even finish chances they manufactured through immoral means. Sergio Aguero won a late penalty kick by launching himself to the turf, only to be denied by Marc-Andre ter Stegen's diving save.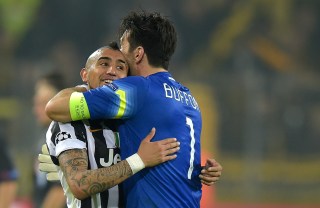 Borussia Dortmund 0-3 (1-5) Juventus — RECAP
Those who expected a beauty only got it from one side of Wednesday's second leg in Germany. Borussia Dortmund struggled to find any rhythm in attack, and found themselves chasing a two-goal deficit by the third minute,
That's because Carlos Tevez was a man possessed, scoring a pair of goals from distance in addition to assisting on Alvaro Morata's goal. Juve looked the part of a team that can do real damage in the quarterfinals and beyond.
And with a 14-point cushion atop the Serie A table, they can play around with the lineup as well.