The top three sides are in action on Sunday, but some traditional names picked up some big points in Saturday's Bundesliga action.
Hannover 2-3 Borussia Dortmund
Dortmund is now just five points back of a European place despite languishing at or near the bottom of the Bundesliga table for most of the season.
Pierre-Emerick Aubameyang scored the first of his two goals 19 minutes into the game, but Lars Stindl had the sides even at halftime.
Shinji Kagawa and Aubameyang scored four minutes apart to put the visitors in control, though Stindl banged home an 82nd minute tally to keep the end interesting for the home crowd.
Hannover out-attempted BVB 15-13, but that wouldn't be enough to pick up a point. BVB has lost just once in its last nine Bundesliga matches.
[ MORE: Premier League Sunday preview ]
Hamburg 0-1 Hertha Berlin
An 84th minute goal from Sebastian Langkamp lifted the visitors four points clear of the relegation playoff spot, and USMNT center back john Anthony Brooks served another 90 minutes in a clean sheet performance. Hamburg dropped into that aforementioned playoff spot in a match with more than double the amount of fouls (46) that shot attempts (22).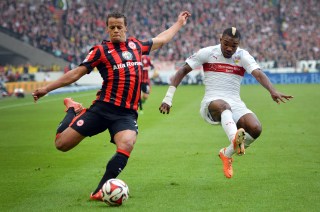 Stuttgart 3-1 Eintracht Frankfurt
For the first time since September, Stuttgart has a home win. It may not have been enough to pull them out of the Bundesliga basement, but the German side will take solace in the fact upward momentum would be welcome, and this is a good start.
A 51st minute goal from Haris Seferovic threatened to make it more of the same for Stuttgart, but Daniel Ginczek netted twice in four minutes before Alexandru Maxim put the exclamation on the win in the 80th minute.
USMNT back Timothy "Timmy" Chandler (right) played 90 minutes, attempting a game-high five crosses from the right back position.
Elsewhere
Schalke 0-1 Bayer Leverkusen — Karim Bellarabi pulls visitors six clear of hosts. 
Koln 1-1 Werder Bremen — Matthias Lehmann's 88th minute goal saves Koln a point.
Paderborn 0-0 Hoffenheim — Hosts pull within point of safety.
Freiburg 2-0 Augsburg — Roman Burkl collects clean sheet. 
Mainz vs. Wolfsburg — 10:30 a.m. ET Sunday
Bayern Munich vs. Borussia Monchengladbach — 12:30 p.m. ET Sunday