A testy El Clasico went in favor of the hosts, as Barcelona increased its La Liga lead to four points with a 2-1 win over Real Madrid on Sunday at the Camp Nou.
Jeremy Mathieu and Luis Suarez scored for Barcelona, while Cristiano Ronaldo netted for Real Madrid.
Eleven total yellow cards were handed out by Antonio Miguel Mateu Lahoz, six going to Real.
[ MORE: Gerrard owns up to stamp, red card ]
The match was even after 45 minutes. Mathieu redirected a Lionel Messi free kick past Iker Casillas in the 19th minute, but Madrid equalized 12 minutes later. Neymar missed a golden chance in the Real end and the visitors countered hard, with Karim Benzema back-heeling the ball for Ronaldo to finish near the penalty spot.
Madrid also had a Gareth Bale goal disallowed due to an offside– by a sliver — flick from Ronaldo.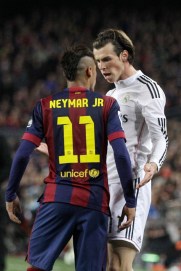 Eight different players had yellow cards within the first hour of play, with five going to Real and three to Barca.
Casillas didn't do himself a favor on the match winner, as the Real keeper was outfoxed by Suarez on a 56th minute goal. The former Liverpool player made a borderline onside run past Pepe before hitting a hard low ball across the box and past the out-of-position Casillas.
Barcelona had the better of play as the game entered its final 20 minutes, and Neymar missed another chance in the 74th minute after being slipped through by a Messi dribble.
Claudio Bravo dove to make a stop on Benzema's 20-yard strike in the 78th minute, pushing it wide of the goal.
Casillas made a great save after Messi sprung Jordi Alba with five minutes to play, and then watched as the goal post stopped Messi moments later. Real earned a corner in the 88th minute, and subbed off Modric for Lucas Silva.
LINEUPS
Barcelona: Bravo; Alves, Pique, Mathieu, Alba; Rakitic (Busquets, 76′), Mascherano, Iniesta (Xavi, 80′); Messi, Suarez, Neymar (Rafinha, 83′)
Goals: Mathieu (19′), Suarez (56′)
Real Madrid: Casillas; Carvajal , Pepe (Varane, 73′), Ramos, Marcelo; Modric (Silva, 89′), Kroos, Isco (Jese, 80′), Bale; Benzema, Ronaldo
Goal: Ronaldo (31′)