Seven teams in Major League Soccer have yet to lose a match in 2015. Several come as a bit of a surprise, some aren't all that impressive and a seventh is a perfect 3-0 on the season.
[ MORE: USMNT releases roster for friendlies ]
FC Dallas' second season under Oscar Pareja has started off swimmingly, if you can treat the postponement of Friday's match as a minor wave in a comfortable pool.
Also, don't look now, but New York's pair of squadrons are first and second in the East. Plus Chicago is 0-3 for the first time in franchise history.
Sporting KC 0-0 Portland
It would be very, very easy to murmur about the U.S. Olympic team and Ken Lolla if you were a cynical Portland fan, but the fact of the matter is that Caleb Porter's Timbers are without Will Johnson and Diego Valeri, and that Darlington Nagbe can't do it all himself.
Check back in a few months, but the fabulous tyin' Timbers have still yet to lose. They've also yet to win, were out shot 16-7 on Saturday in KC, and had an entire offseason to plan for the absence of their two midfield wonders.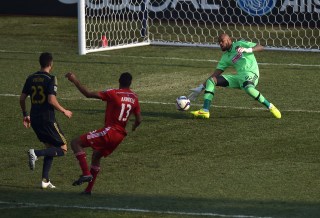 L.A. Galaxy 1-1 Houston
It seemed like Bruce Arena and Owen Coyle could give us a bit of a track meet after Robbie Keane and Nathan Sturgis traded goals before the match was 12 minutes old, but things settled down at the Stubhub Center. Thirty fouls and almost 80 minutes later, the score remained the same in Carson.
Philadelphia 0-2 Dallas
Tesho Akindele and Ryan Hollingshead scored 10 minutes apart to give FC Dallas a surprising 3-0 start to 2015, and don't tell the fans in Texas that Zach Pfeffer's red card for tossing an elbow at Mauro Diaz was the deciding factor. FCD has the best record in Major League Soccer.
Elsewhere
New England 0-0 Montreal — RECAP
Colorado 0-0 New York City — RECAP
San Jose 2-1 Chicago — RECAP
New York Red Bulls 2-0 DC United — RECAP
Orlando City 0-1 Vancouver — RECAP