Juventus may've pretty much sewn up yet another scudetto, but the race for European places remain as strong as ever.
Derby mates Roma and Lazio are the front-runners for runner-up status, with Roma holding a one-point edge in the race for second, but Sampdoria, Napoli and Fiorentina are all within shouting distance.
[ MORE: Suarez leads Barca in El Clasico ]
Will tbe continued European presence of Fiorentina and Napoli cost them in the fight for next season's UEFA Champions League?
Cesena 0-1 Roma
It was harder that the visitors would've liked given the hosts' status in the Serie A drop zone, but Daniele De Rossi came to the rescue for the umpteenth time. It was the hard-nosed midfielder's second goal of the season, and kept Roma in second place.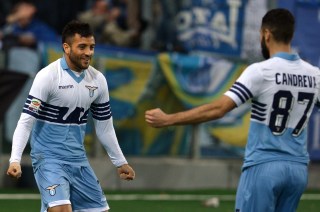 Juventus 1-0 Genoa
Carlos Tevez kept up his red-hot form from The Old Lady's midweek stomping of Borussia Dortmund, scoring in the 25th minute to keep Juve's 14-point lead of second-place Roma.
Lazio 2-0 Verona
He may be just 21 years old, but Brazilian midfielder Felipe Anderson is finding his form in a big, big way. The rumored Liverpool target scored for the ninth time since Dec. 7 and third time in two weeks to help Lazio keep pace with its Roman neighbors. The two sides meet in the second-last week of the Serie A season, and are separated by just a point.
Elsewhere
Chievo 1-0 Palermo — Alberto Paloschi scores winner in 35th minute.
Empoli 3-1 Sassuolo — Riccardo Saponara nets brace for hosts.
Sampdoria 1-0 Inter Milan — Eder's 65th minute goal makes the difference.
AC Milan 3-1 Cagliari — Jeremy Menez scores 14th and 15th of season
Parma 0-2 Torino — Goals in both halves earn visitors W
Napoli 1-1 Atalanta — Duvan Zapata rescues Napoli point in the 89th.
Udinese 2-2 Fiorentina — Mario Gomez scores twice for Viola
| | | | | | | | | | | |
| --- | --- | --- | --- | --- | --- | --- | --- | --- | --- | --- |
| Team | GP | W | D | L | GF | GA | GD | Home | Away | PTS |
| Juventus | 28 | 20 | 7 | 1 | 55 | 14 | 41 | 12-2-0 | 8-5-1 | 67 |
| Roma | 28 | 14 | 11 | 3 | 39 | 21 | 18 | 7-6-1 | 7-5-2 | 53 |
| Lazio | 28 | 16 | 4 | 8 | 51 | 27 | 24 | 10-0-4 | 6-4-4 | 52 |
| Sampdoria | 28 | 12 | 12 | 4 | 37 | 28 | 9 | 7-7-0 | 5-5-4 | 48 |
| Napoli | 28 | 13 | 8 | 7 | 47 | 36 | 11 | 7-5-2 | 6-3-5 | 47 |
| Fiorentina | 28 | 12 | 10 | 6 | 41 | 31 | 10 | 5-6-2 | 7-4-4 | 46 |
| Torino | 28 | 10 | 9 | 9 | 32 | 30 | 2 | 5-6-3 | 5-3-6 | 39 |
| AC Milan | 28 | 9 | 11 | 8 | 41 | 35 | 6 | 7-4-4 | 2-7-4 | 38 |
| Inter Milan | 28 | 9 | 10 | 9 | 42 | 36 | 6 | 5-4-4 | 4-6-5 | 37 |
| Genoa | 27 | 9 | 10 | 8 | 37 | 33 | 4 | 4-5-4 | 5-5-4 | 37 |
| Palermo | 28 | 8 | 11 | 9 | 38 | 41 | -3 | 7-5-2 | 1-6-7 | 35 |
| Udinese | 27 | 8 | 9 | 10 | 31 | 36 | -5 | 5-5-4 | 3-4-6 | 33 |
| Empoli | 28 | 6 | 15 | 7 | 30 | 30 | 0 | 5-6-4 | 1-9-3 | 33 |
| Sassuolo | 28 | 7 | 11 | 10 | 34 | 43 | -9 | 4-6-3 | 3-5-7 | 32 |
| Chievo | 28 | 8 | 8 | 12 | 21 | 30 | -9 | 3-6-6 | 5-2-6 | 32 |
| Verona | 28 | 8 | 8 | 12 | 33 | 48 | -15 | 5-3-5 | 3-5-7 | 32 |
| Atalanta | 28 | 5 | 11 | 12 | 23 | 38 | -15 | 3-5-5 | 2-6-7 | 26 |
| Cagliari | 28 | 4 | 9 | 15 | 34 | 53 | -19 | 2-4-8 | 2-5-7 | 21 |
| Cesena | 28 | 4 | 9 | 15 | 25 | 49 | -24 | 3-6-6 | 1-3-9 | 21 |
| Parma | 26 | 3 | 3 | 20 | 21 | 53 | -32 | 2-2-10 | 1-1-10 | 9 |