A Jozy Altidore red card, the type you don't normally see given in friendlies, forced the United States men's national team to try in vain to keep Switzerland from canceling out Brek Shea's first-half free kick goal in a 1-1 draw in Zurich on Tuesday.
How did each Yank fare on the day? Some were very good (John Anthony Brooks, Ale Bedoya), while some struggled a great deal. The States again allowed a second-half goal, though this one feels much different than the previous friendly failures.
[ MATCH RECAP: Switzerland 1-1 USMNT ]
Without further ado, let's go!
U.S. player ratings (out of 10)
Nick Rimando – 6
Didn't have much to do, which always gives the "player rater" a problem assigning a number.
Brek Shea — 8
His free kick goal was a splendid (WATCH HERE), dipping ball that traced the top of the Swiss wall and ducked into the goal. Shea has a big, big body and good physical skills, and he's looked better and better as a back. It's an experiment worth continuing for sure. #brekfeast
John Anthony Brooks — 8
More and more impressed by the young Hertha Berlin man, and would love to see him alongside Geoff Cameron or Omar Gonzalez sometime soon (Matt Hedges?). One potentially big poor clearance late, but it came right back to him.
Michael Orozco — 6
Don't have much to say about his performance, which is pretty decent considering the USMNT allowed zero goals in his 45 minutes.
Timmy Chandler — 5
His crosses are marvelous. We knew that. Still waiting to see a consistent defensive effort, or at least a match where he doesn't commit a gaffe in his own end.
Danny Williams — 6
Solid, if unspectacular, and a big part of helping Bradley close down the Swiss through the middle. Good return to the pitch for the Reading midfielder.
Michael Bradley — 5
Likely among the poorer USMNT offensive performances in his distinguished career, but don't let the two missed sitters take away from the lack of chances for Switzerland in the engine room.
[ MORE: Brek Shea's good-looking free kick goal ]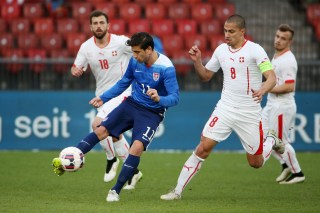 Alejandro Bedoya — 9
He was absolutely magical in the first half, more of what we expected from Klinsmann giving more license to the Nantes man. Bedoya moved well with and without the ball, and showed good creativity.
Alfredo Morales — 4
For 60 minutes, he had his longest stretch of solid play in a U.S. kit. He still looked shaky, though, and it's hard to imagine the 24-year-old featuring on a full-strength roster any time soon. Kasami abused either him or Ventura Alvarado for a free header that should've been a goal in the 76th minute, then he clearly woofed a headed clearance on the equalizer.
Gyasi Zardes — 5
There was a moment in the 65th minute that shows why the 23-year-old could do well to move to Europe. Made a scything run down the left and cut inside with a touch that would've allowed him a strike in Major League Soccer. Against Switzerland, it was gobbled up. Chance over. But he did yeoman's work as the lone man up top after Altidore's red card, grinding out consistent pressure when the ball did reach the Swiss backs or keeper.
Jozy Altidore — 4 (7 minus 3 for red card)
Before his double yellow for a poor tackle and protest to the referee put the States down a man, Altidore was strong. That doesn't excuse his condemning his side when a result meant all the difference in the world, especially for a silly "bleep you" or "bleep off" to a referee. Needless. What if it was in a big match?
Maybe he's a guy who just feels more comfortable for country than he did at Sunderland, but the big man was a presence in both games. He's looking more and more like the player the USMNT missed at World Cup.
Subs
William Yarbrough (halftime) — 6
Bailed out Chandler on some poor touches, and probably would've liked to get a piece of the goal (though Stocker was left point blank). Also liked his positioning on Kasami's free header, as he had a good chance to make the save if the former Fulham man didn't botch the job. Decent first cap in a tough spot.
Ventura Alvarado (halftime) — 5
It was either Alvarado or Morales who missed Kasami on the free header. Otherwise wasn't poor.
DeAndre Yedlin (77′) — 5
Collided with Morales on the equalizer, but it was the Ingolstadt man who ducked out of the way of Yedlin's clear.
Tim Ream (89′) — N/A
Jordan Morris (89) — N/A