What did you take away from the 10-man USMNT's 1-1 draw at Switzerland on Tuesday? Here are three points and a bonus reminder from the Yanks' final match until April 15 in Texas against Mexico.
[ MORE: Match recap | Player ratings ]
1) Youngins gonna young — A reminder that inexperienced players are largely going to look the adjective when they hit the international pitch for the first few times. Los Angeles forward Gyasi Zardes is going to take some time to impress, and the same can be said for Alfredo Morales (Ingolstadt) and Ventura Alvarado (Club America). It's individual taste as to where you draw the line on when they should impress, though. Is the 24-year-old Morales coming into it, or has he not shown enough? Has Zardes shown he's too far away from contributing for the Gold Cup?
2) Two big breakthroughs
— John Anthony Brooks was one of the States' only effective defenders against Denmark, even if he missed the big header late (Hey! He made it in the World Cup). The Hertha Berlin man is rewarding Jurgen Klinsmann's patience through a sometimes-trying run with club and country, and he's a physical specimen. When he makes quick, strong decisions and uses his elite physical specimen the way he did Tuesday, it's easy to forget he turned 22 in January. Brooks has the potential, far from fulfilled, to become one of the finest defenders our nation's seen. Then again, so have a lot of young bucks, but this one had a good week. Maybe you want to call his big World Cup goal his breakthrough, but we'll take the actual defending we saw over the past several days.
— Alejandro Bedoya's first half was borderline world-class, with cutting runs, smart uses of pace and passes that would earn high-fives from some of the world's better playmaker. We know from his importance to Nantes and continued use by Klinsmann that Bedoya is a class player, but he was dynamite on Tuesday, fun to watch and effective. That's a good combination.
3) Come on Jozy — Altidore's red card, the result of a yellow for a silly tackle and a second yellow for cussing out the ref moments later, was silly. Yes, it was a friendly, but Altidore is far too experienced to be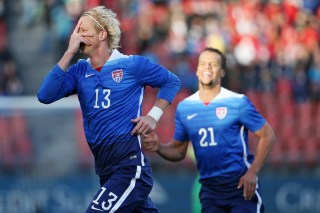 making mistakes like that. What if this was an important match? You might say, "He'd know better", but if that's the case he should've known what a win in Switzerland could do for the reputation of his squad, and the feeling in the locker room.
Bonus) #Brekfeast — Regardless of what you think of Brek Shea as a left back, or a player, he still has the left foot to do things like this: GOOOOOOOOAAAAL.