The 2015 CONCACAF Gold Cup kicks off in 97 days. I'm not entirely sure, but I do believe the 2014 World Cup just ended in Brazil and Germany were crowned world champions.
[ FOLLOW: All of PST's USMNT coverage ]
Yet here we are, almost an entire year later with CONCACAF's bi-annual tournament just three months away. Not to make July 7 seem any sooner than it really is, the U.S. national team has just three more exhibitions scheduled — vs. Mexico (April 15, in San Antonio) and at Netherlands (June 5) and Germany (June 10) — before Jurgen Klinsmann's side begins its quest to retain their 2013 Copa Oro title.
With just three fixtures left between now and the time Klinsmann's 23-man roster is due in to CONCACAF, it's the perfect time to begin speculating what that roster may look like and pinpointing battles for the roster's final places.
2015 Gold Cup roster projections — April 1 edition (in order of depth)
Goalkeepers (3)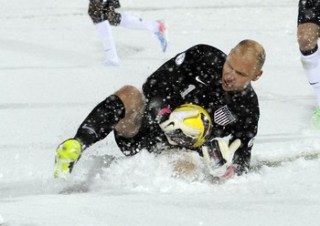 Brad Guzan, Nick Rimando, Bill Hamid
As things stand, Brad Guzan is the undisputed No. 1 of the USMNT, and even if/when Tim Howard returns from his self-imposed year-long break, it should stay that way. Sure, welcome Howard, a legend in his own right, back with open arms — just as Klinsmann should have done with Landon Donovan — but as the No. 2 'keeper fighting to win the job from Guzan.
Klinsmann and Bob Bradley have proved over the last 10 years that as long as Nick Rimando has a pulse, he'll be on a USMNT tournament roster. This time, he enters camp as the No. 2, with young Bill Hamid hoping to prematurely usher those above him toward the exit door. He's the man after 2018.
Missed the cut, but could/should go: William Yarbrough
[ MORE: Biggest winners and loses from the USMNT's two March friendlies ]
Defenders (8)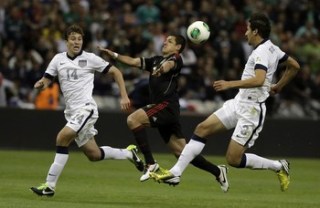 Fabian Johnson, Matt Besler, Omar Gonzalez, DeAndre Yedlin, Brek Shea, John Brooks, Geoff Cameron, Timothy Chandler
Here's where the questions begin. Will the three-man backline return after going away for two months, thus bringing into question the position of Jermaine Jones. Is DeAndre Yedlin a right back or winger, right now? Why can't Fabian Johnson, a natural and really good left back, just play left back?
With only three games to be played before the Gold Cup, it's hard to imagine Klinsmann trying to force the 3-5-2 into happening again. But then again, he's Jurgen Klinsmann. Matt Besler and Omar Gonzalez haven't done much on the USMNT stage to lose their starting spots, but John Brooks, still just 22, has had a great season for Hertha Berlin and in recent USMNT appearances. In a perfect world, he forces Klinsmann's hand and his play demands a starting place.
Missed the cut, but could/should go: Greg Garza, Tim Ream, Michael Orozco
[ MORE: Three things we learned from Denmark 1-1 USA ]
Midfielders (8)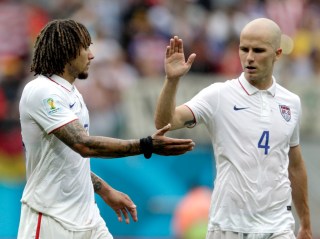 Michael Bradley, Jermaine Jones, Alejandro Bedoya, Mix Diskerud, Alfredo Morales, Danny Williams, Miguel Ibarra, Julian Green
If Jones is a midfielder again, what does that mean for Mix Diskerud and does it mean Michael Bradley is once again shoehorned into the No. 10 role? Couldn't Diskerud play the 10 and Bradley, arguably the best player currently in CONCACAF, play his natural position, a deeper-lying role and hit inch-perfect balls like THIS all day long? That seems pretty simple to me.
Julian Green went to the World Cup, so there's no way Klinsmann doesn't select him for the Gold Cup a year later. Not doing so would, in a way, mean Klinsmann admitting his own misstep, and that's not going to happen anytime soon. Alfredo Morales and Danny Williams act as predictable cover for Bradley and Jones, with Miguel Ibarra the truest wild card pick of the bunch.
Missed the cut, but could/should go: Graham Zusi, Kyle Beckerman, Lee Nguyen, Wil Trapp
[ MORE: On Klinsmann, and Bradley playing "out of position" ]
Forwards (4)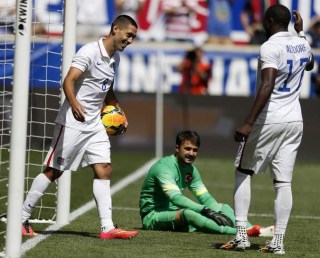 Clint Dempsey, Jozy Altidore, Aron Johansson, Gyasi Zardes
There's honestly very little to discus regarding the forwards — there's not a ton of great options outside the obvious two or three regulars. Clint Dempsey's "position" will always be a forward/midfielder hybrid, but he's most likely to play alongside or just off the should of Jozy Altidore this summer, so he's listed here as a forward.
Johannsson is the change-of-pace option when they need a goal late and/or Altidore is running on fumes.  Zardes goes as the unpredictable youngster most likely to play zero minutes, though his versatility to play as a wide attacker cutting in makes the 23-year-old an interesting change-of-pace option as well.
Missed the cut, but could/should go: Chris Wondolowski, Rubio Rubin, Bobby Wood