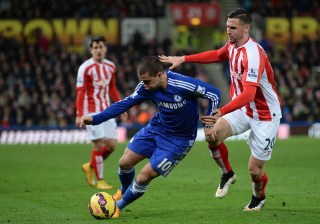 Each week at ProSoccerTalk we will hear from from U.S. national team and Stoke City defender Geoff Cameron, who is now a special correspondent for NBCSports.com.
[ RELATED: Cameron's latest on PST ]
The proud Bostonian tells us what life is like behind-the-scenes in England's top-flight with Q&A's, first-person pieces and more. This week Geoff previews Stoke's big game at Chelsea on Saturday (Watch live, 12:30 p.m. ET on NBCSN and online via Live Extra) as the Potters take on Jose Mourinho's league leaders. 
How is everyone at Stoke feeling after the break and how is the squad feeling ahead of the game against Chelsea? You've had some success in the past against them.
We know it is a difficult place to play, they are top of the league and a very good team. We are coming off a very disappointing home loss to Crystal Palace before the break which we felt we deserved to win. We played well enough to win but a few mistakes cost us. This week of training has been great with guys coming back of international duty feeling good and I think they are ready to go.
[ RELATED: Geoff's guide for an American in London ]
We are all in a positive frame a mind knowing that we want to rebound and get back to our winning ways and finish with some points so we can finish higher than we did last season. Our main focus is to get better and better each game. Obviously we know the caliber of players they have and that it's going to be difficult but we believe in ourselves and we go from there.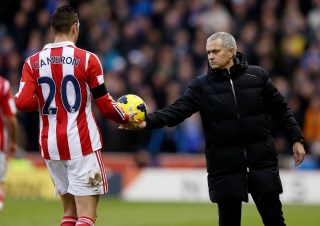 Geoff, do you see any weaknesses in this Chelsea side, they are obviously top of the league for a reason, but are there any areas you will be looking to pinpoint and exploit?
I'm not too sure about weaknesses but I know that maybe overconfidence can be one thing, but it's tough because there are so many good players. I think we could hit them on the counter-attack a little bit, because we had some success against Chelsea and Arsenal at home doing that and grabbing big wins in recent seasons.
[ VIDEO: PL highlights ] 
With their full backs pushing high and getting on offensively, maybe we can exploit that a bit. Tactically we have been doing some stuff this week and watching videos on them, so we are prepared.
The likes of Diego Costa, Eden Hazard and Oscar have come under plenty of scrutiny this season for taking dives in and around the box. As a defender, how often do you deal with that in the PL and how do you prepare for the potential for players to dive?
The fact is that it is in the game now. I don't really think about it too much before a game and I think it's the same for most guys. The referees are good enough know to see when it is a dive so the players aren't too worried about it because we believe in the refs that they will make the right call. They are all good players, those guys you mentioned. I don't think they need to dive, and for the most part I don't think they do. Some players want to take advantage of a situation so when they have an opportunity to go down, they go down.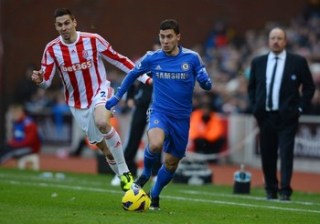 So when Costa or Hazard are running at you in the box, does it enter your mind? What goes through your mind?
They are very shifty players, you read about Hazard being the most fouled player in the Premier League, well yeah, that's probably because he's one of the best players in the Premier League. Guys don't want to let him get by. But you have to be aware because you go in for a tackle and all of a sudden the ball has shifted because he cuts the other way and you end up taking him out or you hit him and he falls down.
 [ RELATED: Latest PL standings ]
You just have to be aware of it. I don't think Hazard or Costa are divers, they play to their strengths. You have to be patient and you can't dive in. They are so good and clever at using their body and then using their skills to get past you or draw a foul.
You said earlier that diving was part of the game in the PL, so did you think the way Chelsea has been singled-out this season as "divers" is a little unfair?
Yeah, I think so. Because they are a big team and they are in the Champions League and at least for me, there is a lot more scrutiny on teams like that. We get it at Stoke as well, people label us as a kick and run team and bunch of brutes who are aggressive and kick people. But I think that perception of Stoke is changing over the last couple of years. We are now a team who like to play football, get the ball on the ground and play. People have their own ideas and opinions but I think Chelsea has taken criticism that is unjustified because of who they are.
So what did you get up to during the international break? 
This week I was able to take a trip to see Bojan and Marc Muniesa in Barcelona, their hometown. I have never been there before and for me it was a great chance to go and see one of my good friends, Bojan, and see how he is doing after his ACL surgery and catch up. It was great to see Barcelona and my expectations did not let me down at all.
If anything Barcelona was one of the most beautiful cities I have ever been to. The weather was perfect, the architecture was amazing and now I know why people want to live there! I don't get a chance that often to do things like that, so it was great. We went hiking, had some great paella and just wandered around and saw all the cool buildings and the great views from up in the hills around Barcelona that overlook the city.
Chelsea vs. Stoke is live on NBC at 12:30 p.m. ET on Saturday, so as the lone American outfield player in the Premier League, have you got a message for your fans back in the USA and perhaps people who haven't seen Stoke play before. What can they expect?
Playing away from home will make it tough for us but we will not be super-defensive. We will respect a team like Chelsea but we will go for it. For everyone watching back home, I really appreciate your support and I hope even the Chelsea fans in the U.S. are cheering on your American player this weekend!