Two big goalie blunders highlighted Chelsea's 2-1 win over Stoke City on NBC this Saturday at Stamford Bridge.
After an Eden Hazard PK put Chelsea up 1-0, Thibaut Courtois was caught off his line by a 65-yard bolt from Charlie Adam to tie it at 1, only to see Stoke counterpart set Hazard up for Loic Remy's match-winner.
Top of the table Chelsea has a 7-point lead on Arsenal with a match-in-hand, and a nine-point lead on Manchester City.
Stoke's 42 points sit mid-table, level with ninth-place West Ham.
[ RELATED: Watch full match replays ]
Chelsea nearly scored in the third minute, as Asmir Begovic had to leap to deprive Loic Remy's shot from near the spot.
What followed was a lot of tight quarters play, almost a feeling out period between the two sides apart from Eden Hazard's speculative blast from 25 yards out that sailed over the goal.
The first half wasn't too lively for most of the first half hour, with Hazard the only threat. Oscar hit a low ball wide in the 30th minute that should've made it 1-0.
[ RELATED: Latest Premier League standings ]
Then Cesc Fabregas worked Phillipp Wollscheid for a 39th minute penalty kick, and Eden Hazard hit a low strike barely left of the middle to make it 1-0.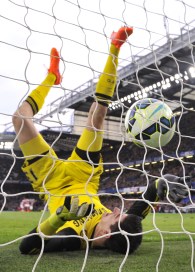 You're lying if you thought a first-half equalizer was coming, but Adam found it from well inside his own half. Thibaut Courtois had drifted past his 18, and Adam unloaded a 65-plus yard shot that sailed over the Chelsea keeper and into the goal. Wow.
Diego Costa was unveiled at halftime, and lasted a walloping 11 minutes before his wonky hamstring went out again. It would be Didier Drogba joining Loic Remy for the rest of the match.
[ VIDEO: Premier League highlights ]
Fittingly, it was a goalkeeper error that undid Stoke. Begovic rolled out a poor offering from the top of the 18, and Hazard dribbled into the 18 before deferring to Remy, who passed it home and subbed off with Chelsea up 2-1.
Steven N'Zonzi put a shot past Courtois but off the right post moments later.
Begovic made a pair of huge saves as the clock hit 80, denying Juan Cuadrado twice after a nice combination play with Hazard.
LINEUPS
Chelsea: Courtois; Ivanovic, Cahill, Terry (c), Azpilicueta; Matic, Fabregas; Willian, Oscar (Costa, 46′; Drogba, 57′), Hazard; Remy (Cuadrado, 63′).
Goal: Hazard (PK, 39′), Remy (62′)
Stoke City: Begovic; Cameron, Shawcross (c), Wollscheid, Wilson; Ireland (Crouch, 78′), Whelan, Nzonzi, Adam (Pieters, 79′); Walters, Diouf (Arnautovic, 62′).
Goal: Adam (44′)