WONDER GOALS GALORE, BUT WHICH WAS THE BEST?
No fewer than 10 goals were scored this weekend which, in their own right, could easily have secured a Goal of the Week award.
[ RELATED: Breaking down Week 31's wonder goals ]
The sheer variety of these sensational strikes was astounding, as game after game saw stunning strikes fly into the back of the net as we witnessed the incredible talent on display across the Premier League. In the video above our broadcast team broke down the top four goals from the weekend, and here's a breakdown and difficulty rating for all four.
1. Charlie Adam: Without doubt, the best goal of the season so far. To have not only the nerve but the ability to pick your head up and lob one of the best goalkeepers in the world, Thibaut Courtois, from 67-yards out, at the home of the soon to be PL champions, takes a special player. Adam is certainly that, as his past teammates have since revealed his penchant for trying crazy shots in training and he also often goes for long-range efforts during games. This goal saw him cut across the ball and generate incredible power as the shot seemed to accelerate faster the longer it was in the air. Remarkable goal. Difficulty rating – 10/10
2. Wayne Rooney: Ah, another Rooney special. The United man showed off his incredible balance and vision as other players simply wouldn't have been able to plan out the finish he perfected against Aston Villa. When Angel Di Maria clipped a cross into the box, Rooney controlled wonderfully, almost Ballerina-like, with his left foot before swiveling and volleying home with his right. My word. Difficulty rating – 9/10
3. Jermain Defoe: Such an important goal in Sunderland's survival charge and exactly why Defoe was brought in. The former Toronto FC star watched the ball fall from the heavens right on half time against Newcastle in the derby on Sunday and then his perfect balance and technique saw him knock a beautifully controlled volley into the top corner. He has scored some beauties in his career, but this may be the best. His tears of joy said it all. Difficulty rating – 9/10
4. Bobby Zamora: This goal may have been overlooked slightly due to the large number of stunners on show this weekend, but it shouldn't have been. Zamora, on the run and on the far right-hand side of the box, had a quick look up and with a cheeky flick of the outside of his left foot he lobbed West Brom goalkeeper Boaz Myhill. The ball clipped the underside of the bar and nestled into the bottom corner as Zamora all but sealed a huge win for the R's before half time. This strike was completely different than the other three, but no less impressive. Difficulty rating – 8/10
Honorable mentions: Esteban Cambiasso's long-ranger (watch here), Olivier Giroud's curler (watch here), Alexis Sanchez's smash (watch here), Eduardo Vargas' beauty (watch here), Bafetimbi Gomis' bicycle kick (watch here), Mesut Ozil's superb free kick (watch here)
Premier League Schedule – Week 31

ARSENAL, MAN CITY, MAN UNITED: RACE FOR SECOND
Chelsea are seven points clear at the top of the Premier League table after Week 31 and Jose Mourinho is already picking out a matching shirt and tie for the day his Blues parade the title on the open-top bus around west London.
[ RELATED: Watch full match replays ]
However, even if they don't want to admit that their title hopes this season are diminishing by the game, a more intriguing battle is going on behind Chelsea as Arsenal, Manchester City and Manchester United tussle for second spot. The Gunners have won nine of their last 10 matches, City are stumbling after losing to Crystal Palace and are now in fourth and United have hit form at the perfect time of the season with six wins from their last seven games.
[ RELATED: Latest PL standings ]
It would take a monumental collapse from Chelsea for them to not win the title this season but Arsenal, City and United are now involved in an intriguing race for second place, the winner of which could well take added momentum into next season and challenge Chelsea for the 2015-16 PL crown.
However United's boss Louis van Gaal hasn't given up hope of lifting the PL crown this season. He had this to say after United's victory over Villa.
"We have to play against the first three in the league (Chelsea, City and Arsenal) and normally when you play against better teams with more points it's not done yet," van Gaal said. "We are looking up and we have to win every week but anything is possible. We have made a big gap to fifth and we can suffer a defeat. Liverpool is now eight points behind us and we are eight points behind Chelsea. We probably won't be champions but we can give pressure."
Sure, a lot can happen over the summer with managerial and player changes likely to occur but don't underestimate how important the next seven games may be in determining how teams will fare next season. Arsenal's squad now looks strong throughout with their attacking talents firing on all cylinders in the emphatic 4-1 win over Liverpool on Saturday.
With Alexis Sanchez back to his best and the enigmatic Mesut Ozil finding some consistency in recent weeks, the Gunners are stacked with attackers who can rip teams apart with Olivier Giroud scoring seven in his last six PL matches and the likes of Theo Walcott, Danny Welbeck and Alex Oxlade-Chamberlain not called on recently. In midfield and defense they are stacked with Jack Wilshere, Tomas Rosicky, Abou Diaby and Mikel Artera all back ups, while the likes of Kieran Gibbs and Calum Chambers are twiddling their thumbs on the bench. Simply put, Wenger has built a young, hungry squad and if they finish in second and win the FA Cup this campaign, what a season that will be as they will be the prime candidates to challenge Chelsea next season. Wenger has called on his boys to keep their momentum going for the rest of the season.
[ RELATED: Three things from Arsenal's win vs. Liverpool ]
As for United and City, well, we will get a close look at which side is in the ascendancy when they square off at Old Trafford this Sunday (Watch live, 11 a.m. ET on NBCSN and online via Live Extra). City may well have a new man in charge next season as Manuel Pellegrini is reportedly on the chopping block after another failure to make it past the UEFA Champions League last 16 and a stumbling season which has hardly ever seen them as favorites to defend the PL crown they won last season. After a few years of raucous behavior from their "noisy neighbors" on the other side of town, United will see Sunday's game as a chance to not only grab their first derby win in five attempts but to also set the tone for next season when LVG's boys hope to not only rule Manchester but also the Premier League.
Don't be fooled, even if Chelsea has the title wrapped up by the end of April, there's still plenty to play for this season as English giants tussle for second and early momentum to try and catch, and overtake, the Blues in 2015-16.
RELEGATION BATTLE HEATS UP
It was a great weekend for the clubs at the bottom as Leicester City, Queens Park Rangers and Sunderland all won to breath new life into their relegation battles.
[ VIDEO: Premier League highlights ]
Leicester beat West Ham 2-1 thanks to a late Andy King goal, as the Foxes edged an epic end-to-end encounter. Nigel Pearson's side has a game in hand (albeit it against Chelsea) but are six points off safety. It will be a big ask for them to stay up but the Midlands club are at least making it interesting as the final weeks of the season arrive. As for the rest, it's anybody's guess who will go down. Burnley continue to battle away with a 0-0 draw against Tottenham, while QPR hammered West Brom 4-1 away and Sunderland bagged a big Tyne-Wear derby win over Newcastle. Those defeats ensured Newcastle and WBA are still in danger of the drop, but they will both probably be okay. Aston Villa and Hull City both lost 3-1 at the weekend as both sides will be looking nervously over their shoulders as QPR, Burnley and Leicester hit form.
[ RELATED: Premier League schedule ]
Below is how things stand in the bottom eight with seven games to go. Who is your money on to go down? Talk about tight…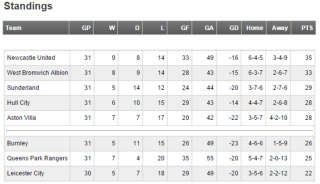 USMNT UPDATE: HOWARD'S HEROICS
Three U.S. national team players were in action in the Premier League this weekend, with Tim Howard the only USMNT man to taste success. The Everton 'keeper has come under a lot of scrutiny this season but arguably put in his best display of the campaign to shutout Southampton in a 1-0 win for the Toffees. His early save on Graziano Pelle's flick (watch in the video, below) will go down as one of the best stops of the 2014-15 season. No doubt. Elsewhere, Brad Guzan was a busy man in goal for Aston Villa but couldn't stop Villa losing 3-1 to Manchester United at Old Trafford.
[ RELATED: Geoff Cameron's column for ProSoccerTalk ]
Rounding up the action for Americans in England's top-flight, Geoff Cameron went the full 90 for Stoke City at right back as they battled to the end at Chelsea but lost 2-1 at Stamford Bridge.
Premier League Playback comes out every Monday as PST's Lead Writer and Editor takes an alternative look at all the action from the weekend. Read the full archive, here.