Remember when the banners dotted St. James Park? Remember the protests? Remember the chants? They weren't creative, just to the point. "Pardew Out."
Whoops.
Alan Pardew was driven out of Newcastle after a four-year roller coaster ride, an attraction with enough highs and lows, enough S-curves and G forces to make even the rugged of riders sick to his stomach. But now, in just three short months in London with Crystal Palace, he has revived the Selhurst Park faithful and made Magpie fans more nauseous than even the most vicious of theme park rides ever could.
Since joining just after New Year's Day, the 53-year-old has won a whopping eight matches in charge of Crystal Palace across all competitions, leaving the likes of Manchester City, Southampton, Tottenham, Stoke City, and West Ham in his wake. Meanwhile, Newcastle has won just twice across the same time frame, beating lowly Aston Villa and Hull City. Palace ended Manchester City's chances at the Premier League title this season, while Pardew's replacement John Carver was thumped by Manuel Pellegrini's side 5-0 in late February. Newcastle has failed to score more than one goal in any of its eight matches since the start of February.
But it's not just the results that prove Pardew's doubters wrong. "The parts are greater than the whole" was the most used cliché of the day Sunday after Palace sent Pellegrini packing, and while often overused, it remains accurate in this case. Palace played as a true team, while Manchester City continued to look befuddled while thumping crosses into tracking defenders, sending passes wide of their intended targets, or flat out miscommunicating. Even had City managed to complete the 2-goal comeback, Palace would have made its point. The parts are indeed greater than the whole.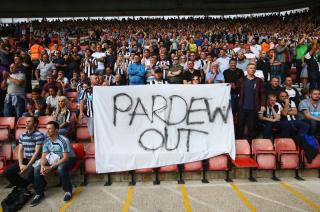 Thanks to his storming success in London so far through 2015, Alan Pardew FC would be in eighth place in the table if you collect his points haul from both Newcastle and Crystal Palace this season. Meanwhile, as the Daily Mail points out, Team Pardew Out – the combination of Palace before him and Newcastle after – would sit in 19th out of 22. There's more to why he left Newcastle than just results on the field, but surely such a major discrepancy with the same players serves to prove his influence.
While a Manager of the Year honor would be above Pardew this season with both Ronald Koeman and Jose Mourinho more deserving given the circumstances surrounding this season, his candidacy certainly has a few merits. He weathered titanic amounts of both internal and external abuse at Newcastle, and responded with a late 2014 run of form that ended with seven wins in nine matches across all competitions, with wins over Chelsea, Manchester City, and Tottenham. It all came crashing down in December, but the point was made: Pardew can produce, the only issue remains longevity.
Whether he can sustain this success at Crystal Palace the rest of the year and into the future remains to be seen (likely, no, not to this extent), but he has already passed the first checkpoint – to prove the banner-holders, the chanters, and the whisperers wrong. Mike Ashley and Newcastle never should have driven the enigmatic Alan Pardew out. While he may not be the most sparkling managerial choice, and he may occasionally fall down, he always picks himself up. There's little chance Carver is hired full-time, as he's seemingly failed the audition, and it remains to be seen whom Newcastle picks to lead the club long term, but after spitting in the face of consistency – a highly coveted yet elusive goal in the modern game – Newcastle has light years to go before they regain the position befitting of the club's size.
More tangibly, Newcastle was in 10th position when Pardew left for Crystal Palace, while his new club was in the relegation zone. Now, the Eagles sit safely in 11th and aim for a top-half finish while the Magpies have fallen below Pardew's new club into 13th and are struggling to tread water. Mission accomplished in London, but do we even know what the mission at St. James Park is?