The high turnover world of English soccer applies especially to coaches, sometimes regardless of contract status.
With the Premier League hitting its final strides for this season, we thought we'd take a look at the contract status for each Premier League boss, and evaluate the safety of their position moving forward.
Four PL bosses have contracts that expire in June: Sam Allardyce (West Ham), Dick Advocaat (Sunderland), Steve Bruce (Hull City), John Carver (Newcastle) and Chris Ramsey (QPR). Allardyce's status is a big question mark, as the Hammers had a solid start to the season and will finish comfortably at midtable. Will he or won't he stay?
Carver may be offered a job at NUFC, but it won't be "the" job, while Ramsey's status surely depends on whether QPR stays up and how it looks doing so. Advocaat helming a win over Newcastle in the Tyne-Wear Derby has some Sunderland supporters asking for a long-term deal, but safety first. Bruce could be out at Hull, especially if they go down, and it wouldn't be a surprise to see him take Carver's job at St. James Park.
[ MORE: Man City, Toronto to tangle in Canada ]
The length of Sean Dyche's deal at Burnley is unknown. He signed the deal in January of 2014 with promotion on the mind, and the Clarets are in a fight for their Premier League lives. Still, its lack of depth in talent and not know-how that have Burnley in the relegation battle, so we'll assume if there was a parting of ways it would be because Dyche got a better offer.
The bulk of deals expire in 2017. Arsene Wenger looked like a man many wanted gone just a few months ago, but Arsenal has leapt to second in the Premier League. Jose Mourinho is a wanderer, but is safe at Chelsea. Leicester's Nigel Pearson was said to be out the door just last month, and his job status is tenuous, especially if the Foxes are relegated to the Championship. Maybe he wasn't canned because no one wanted to get punched in the face while delivering the news.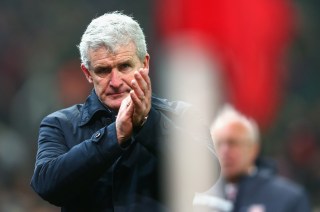 The two Manchester bosses are set until 2017, though many consider Manuel Pellegrini on his way out of City while Louis van Gaal is about as safe as it gets at United. Ronald Koeman, Garry Monk and Tony Pulis are safe in their jobs at Southampton, Swansea City and West Bromwich Albion, respectively.
[ MORE: Leaked Man Utd, Chelsea kits? ]
Mark Hughes (Stoke City), Brendan Rodgers (Liverpool), Alan Pardew (Crystal Palace) and Tim Sherwood (Aston Villa) are four managers with deals running through 2018. All are relatively safe given success at their clubs, their status as new bosses, or both.
As for 2019, only Mauricio Pochettino (Spurs) and Roberto Martinez (Everton) have that sort of job safety. Neither looks in danger despite disappointing years on the job.