England is getting a do-over.
A referee error did not allow the England women to retake their penalty kick against Norway in an Under-19 European Championship qualifier on Saturday.
And UEFA is taking the extremely rare step of replaying the match from the stoppage time spot kick onward.
[ MORE: USMNT climb in latest FIFA rankings ]
Referees make incorrect rulings often, but rarely if ever do they result in a re-staging of the offending event (let alone days after the fact).
Before we get to the "What?!?", here's the why.
With Norway winning 2-1, England were handed a lifeline in the sixth minute of stoppage time during the match in Belfast on Saturday when they won a penalty.

Leah Williamson scored the spot-kick, but German referee Marija Kurtes disallowed the goal because one England player entered the box before she struck the ball.

Norway played out the final minute of stoppage time and won the match 2-1.

Rules state the referee should have ordered the penalty to be re-taken, and Uefa's Control, Ethics and Disciplinary Body said it had no choice but to order the final moments of the match be replayed from the point of the penalty kick.
As it stands, England, Norway and Switzerland are in a three-way tie for the Group 4 lead, though the Swiss have played their second match through. All three teams have the knowledge that Norway technically leads England 2-1, with England having a penalty kick when play resumes.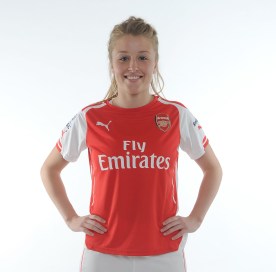 In an odd twist deserving of the occasion, both clubs will play other teams at 4 p.m. local time at different Belfast locations before reconvening to play out the spot kick and ensuing few moments against each other before the 9:45 p.m. restart.
So Williamson (pictured above and at right), an 18-year-old Arsenal player, gets to stew on her PK before retaking it for what could be the fate of England in the U-19 Euros. No pressure, kid.
Also, UEFA, thanks for opening Pandora's Box here. Perhaps this sort of thing has happened under the radar before, but redoing a ref's mistake — albeit a big one — is a colossal eyebrow raiser.
Does this mean we get to restage the 2002 World Cup quarterfinal between the USMNT and Germany from Torsten Frings' handball? Sweet!
Here's the initial infraction: