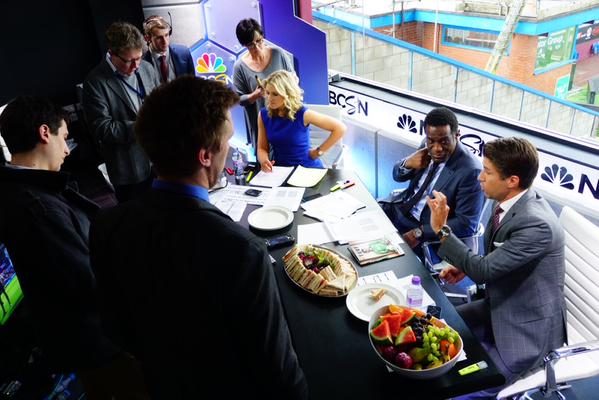 The entire Premier League on NBC crew are in England this weekend and before Arsenal's match at Burnley on Saturday, ProSoccerTalk caught up with Rebecca Lowe, Robbie Earle and Kyle Martino in the studio for a quick chat about their trip so far and what they are looking forward to.
RELATED: Watch full match replays ]
Here's what Martino had to say, along with some brief interjections from Lowe and Earle, about the past few days in England and what else they are looking forward to as the entire crew will put on live shows from Old Trafford on Sunday (Watch Manchester United vs. Manchester City live on NBCSN, 11 a.m. ET) and at Anfield (Watch Liverpool vs. Newcastle live on NBCSN, 3 p.m. ET) on Monday.
Talking about the trip generally, what have been the highlights so far?
Kyle Martino: For me the highlight was definitely the chat we got with Brendan Rodgers.
Robbie Earle: That chat with Rogers was superb.
Martino: We are used to that kind of access in the States with the players and the managers but over here it was very rare to get that kind of time with a high profile manager. Rodgers would have talked for an hour and a half if his PR guy would have let him! He just opened up his door and gave us an insight into who he is, who Liverpool is and what he is trying to accomplish there. We were all floored.
The atmospheres at the stadiums, is that something you guys are really looking forward to?
Martino: Oh yeah. I keep going back to comparing it to other American sports, but that's just naturally where my brain goes. Some of the most successful sports like the NFL are actually starting to mimic some of the things that atmospheres do here and they are actually stealing the flags, chants, drinking in pubs and marching to the stadiums.
Earle: They have taken the signing and stuff like that. It is funny to see because some of it isn't quite right yet but they are figuring it out…
Martino: What we hope to accomplish here, and I think we do a really good job even when we aren't here, but is to bottle up a little bit of that atmosphere and pour it into the family rooms of the American audience.
What is the most English thing you have done since you got here, we saw you eating a Cornish pasty…
Martino: The pasty was pretty English but I have to say the tea situation. I can't believe
Lowe: The fact that he calls it a tea situation is an issue…
Earle: Here's an interesting thing when we say 'can anyone put the kettle on' they say [pointing at Kyle] it is a tea kettle.
Lowe: It's not a tea kettle, it is a kettle. So we are doing a lot of educating.
Martino: I mean, I have enough tea for the rest of my life from this trip…
Lowe: When we first started working on this show a few years ago he didn't know what English Breakfast tea was, he just drank green tea because he's from LA. So now he is full on the PG Tips. (Cue a discussion about how to put jam and cream on scones… and then back to the pasty).
Martino: Rebecca Lowe stitches me up by giving me a pasty from a train station and Lee Dixon took a bite of his and didn't tell me I was going to burn my mouth and wouldn't be able to taste anything for the rest of the trip.
Lowe: It's a theme. We are making Kyle eat stuff he has never eaten before. He has had a bacon buttie
Martino: It is basically just like that show "An Idiot Abroad!"
Being based in Manchester, have you been able to see the divide between United and City over the past few days?
Martino: Not yet!
Earle: We just haven't really had the time yet.
Martino: We have just been so focused on Burnley vs. Arsenal and today that we haven't gotten into the Manchester derby or seen any build up to that. But I am sure tonight we will start to see things… I have been here a couple of times and DaMarcus Beasley, a close friend of mine, invited me over and watch him play in the derby with City and with Claudio Reyna. Then David Beckham invited me over for his first game back at Old Trafford when he went there with AC Milan in the UEFA Champions League. I remember he comes out to a standing ovation and the chant "Fergie sign him up, Fergie sign him up!" and then two minutes into the game he gets booed. I was like, this is classic.