Losing to an expansion team in front of your celebrated home crowd is obviously not a good look, and Portland Timbers head coach Caleb Porter is none-too-pleased with his club's effort in a 2-0 loss to Orlando City on Sunday.
It's the latest disappointment in another slow start for the Timbers after Porter's splendid debut year in Oregon. Last season, the Timbers drew five and lost three in its first eight games before beating DC United at Providence Park on May 3. That start ending up dooming Portland in its quest to return to the playoffs (despite a gritty and thrilling stretch run).
[ SNAPSHOT: Portland 0-2 Orlando City ]
Portland got its first win of this season last week, a 3-1 defeat of a strong FC Dallas side, and looked ready to pick things up before the largely listless defeat to OCSC on Sunday. And the Timbers have five of their next six away from Portland, with that home match anything but a respite; Vancouver comes to town on May 2.
"I need to look at the tape to have an appropriate perspective. But based on watching the game live and feeling what I felt, it was not a good performance. The first half especially. Orlando had far too much of the ball. That was never the intent. Have to credit them. They came out, played very well in the first half, found the first goal, and you could feel the goal coming. I couldn't tell my guys after the game that they played well and deserved to win today. I thought Orlando deserved to win the game. That's tough, as a coach, to say that to your group after the game. This was a head-scratcher a little bit. The first half especially."

…

"We'll bounce back like we always do. We're a team that deals with adversity in a positive way. We've got a mentally tough team. We've got a good locker room with guys that have character. We'll get back to work and have a really hard week of training. I'm going to reflect on the game and reflect on what went wrong. Like I said, it's my responsibility. We weren't good enough today. That's me, the guys, everybody."
A few things about the Traditionally Tyin' Timbers: One, when watching these games it is critical to remember that the club is missing two of its top three assets in still recuperating Will Johnson and Diego Valeri. No, Porter shouldn't be absolved for this poor start based on personnel — he had all winter to plan for their absences and both are coming off the sort of major injuries that don't guarantee a return to form — but certainly neither player is expected to return as anything but an impact midfielder (Johnson's return is especially needed).
Portland's also had a tough go in terms of the schedule, regardless of venue, with early season games against Los Angeles, Vancouver and Dallas on the schedule. This two-match stretch against Orlando City and New York City was supposed to be a breather before a pair of Cascadia Cup matches, however.
[ FOLLOW: All of PST's MLS coverage | Standings | Stats | Schedule ]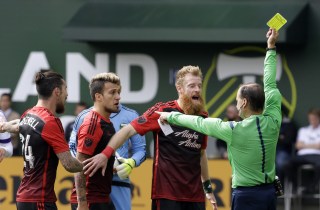 As for Porter, even including this slow start doesn't make the past year or so all that different from his incredible first campaign at the helm. Portland is still snaring points from the overwhelming majority of their matches. The number of ties may belie the promised style of soccer, but Porter's Portland has picked up points in 78 percent of his games.
The Porter Era
Year One: 14W-5L-15T
Since: 13W-11L-16T
Overall: 27W-16L-31T
The Timbers definitely need more wins, regardless of injuries, but shouldn't this give a bit of comfort to the Timbers faithful? I doubt I'll ever be confused with a Porter booster, but panic may not be pertinent just yet (despite how terrible the Timbers appeared against Orlando). It's Porter's third season as a pro, though… shouldn't they be better overall, especially given the vast advantage of their home atmosphere? What say you?
P.S. Nearly made it the whole way without a single tissue mention. Nearly.