The U.S. national team notched another "Dos A Cero" victory against their bitter North American rivals, Mexico, on Wednesday night. While Wednesday's game was only a friendly, it was also the USMNT's final game to be played before a series pre-2015 Gold Cup friendlies in June.
With this summer's CONCACAF tournament less than three months away and head coach Jurgen Klinsmann now faced with more than a handful of questions and roster decisions before July arrives, here's three things we learned from "Dos A Cero," Part 7.
[ MORE: Recap: USA 2-0 Mexico | Player ratings kind to Bradley, Alvarado ]
1. THE USMNT MIDFIELD IS JUST BETTER WHEN KYLE BECKERMAN IS IN IT
It doesn't matter what facet of midfield play that you're talking about — ball retention, ball-winning, shielding the back four, etc. — the USMNT midfield does it better when Beckerman is on the field.
Beckerman played just 63 minutes against Mexico, but he won the ball back 15 times (interceptions, recoveries and tackles won combined — just look at that impenetrable shield in front of the backline down below) and misplaced just nine passes. Not only does he win the ball back at a ridiculous rate (highest number of ball-wins against Switzerland and Denmark were 8 and 8, respectively), but he gets rid of it and to the feet of Michael Bradley and Mix Diskerud in a timely fashion.
The quicker Beckerman advances the ball to the midfield's playmakers, the less time opposing midfields and defenses have to recover and fall back into shape. Hopefully his injury is nothing serious for his club's sake and for the USMNT, because he should be on the Gold Cup squad this summer.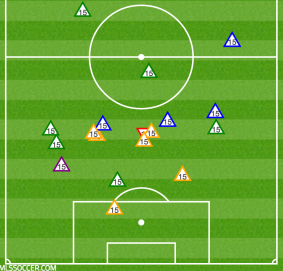 [ MORE: Looking back at the best moments in the USA-Mexico rivalry ]
2. JUAN "SWAGUDELO" IS A GAME-CHANGER FOR THE USMNT
Look, I still have huge questions about whether or not Juan Agudelo can lead the line or contribute at a high level for 90 minutes, but as a 20- or 30-minute sub late in games, no matter the scoreline, there's no one else in the USMNT's player pool that can change the game and pull off the spectacular and fashion a chance out of nothing quite like Swagudelo.
The way he plucked Bradley's long ball out of the air in the build-up to his goal was practically identical to the goal he scored against the Colorado Rapids two weeks ago. That's the kind of unpredictability and flair the USMNT has lacked for so, so long. In the World Cup round of 16, Belgium turned to Romelu Lukaku, while Klinsmann called upon Chris Wondolowski — you see what I'm getting at here?
And he's not just an out-and-out forward who adds very little to the build-up. He's actually really good at linking up with the center forward and making dangerous inside runs from the left wing. He certainly brings more to the table right now than Wondolowski, Aron Johannsson Bobby Wood, or Rubio Rubin, all of whom continue to receive regular call-ups.
[ MORE: PHOTOS: USMNT & USWNT's new jersey for 2015 Gold Cup & World Cup? ]
3. U.S. SOCCER CARES MORE ABOUT $$$ THAN THE SAFETY OF THEIR PLAYERS
The temporary grass surface at the Alamodome for Wednesday night's game was absolutely atrocious. Large patches of dirt and shifting seams were visible through the television broadcast, and the two teams were extremely lucky that only one player (Beckerman, in a non-contact situation) was injured on that shoddy field.
We know that these high-profile friendlies are about nothing more than making money, and that's fine. It really is. The U.S. Soccer Federation needs these games to pay for things like team travel and youth development, which are both very important. But please — please, please, please — don't do it with complete disregard for the safety of your players.
So, Sunil Gulati, if your phone is ringing right now, that's Real Salt Lake head coach Jeff Cassar on the line. He's probably not happy.
Here's your Alamodome field shots. pic.twitter.com/ywrnEhvj2A

— Jon Arnold (@ArnoldcommaJon) April 14, 2015