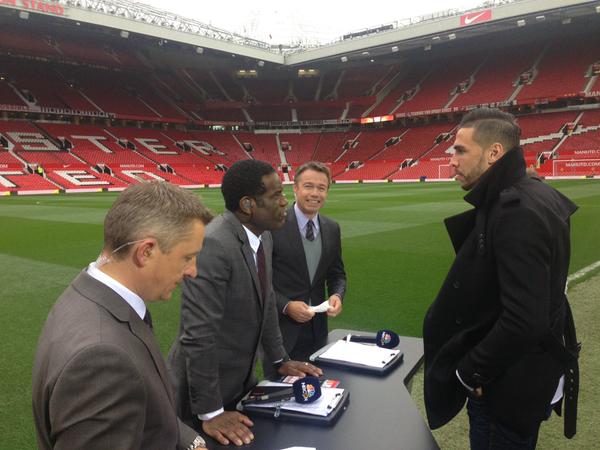 Geoff Cameron, who is now a special correspondent for NBCSports.com.
[ RELATED: Cameron's latest on PST ]
The proud Bostonian tells us what life is like behind-the-scenes in England's top-flight with Q&A's, first-person pieces and more. This week Geoff discusses Stoke's game against Southampton on Saturday, his time with NBC's broadcast crew in England and more. Take it away, Geoff.
Wow, it's been a busy week for me over here in England. After our game at West Ham United last week — we were a little disappointed not to get a win but pleased to at least get a point because we played really well, hit the woodwork and felt we deserved to win. Now all the focus is on picking up more points and pushing hard to finish in the top 10 — I headed back home to Manchester and met up with NBC's broadcast crew for the trip to England.
[ RELATED: Potters grab late point at Upton Park ]
On Sunday it was a great day at Old Trafford to meet up with everyone and get a close up look at how everything is put together for a live studio show. It was a very cool experience and its always great to catch up with Kyle Martino (who do you think won the hair off?! Come on Kyle, no contest, bro…)
It was great to meet Robbie Earle, Robbie Mustoe, Lee Dixon, Steve Bower, Gary Lineker, Arlo White and Rebecca Lowe, plus all of the staff behind the scenes who did an incredible job across the three days. I've heard so many good things from people at home about the broadcasts from Burnley, Man United and Liverpool. So it was really cool to watch it happen and I am looking forward to doing some stuff fairly soon in the studio for the first time. It was great to get some experience and to see what it's all about. Plus, we had a good time in Manchester on Sunday night kicking back and relaxing.
Usually I am sat on my couch watching the games, so it is very rare I actually get to go to a Premier League game and even though its always better to be playing, it was quite something experience the atmosphere of a Manchester derby. It was cool to get out there, to witness it from a different perspective and take in the passion and rivalry they have in Manchester.
[ WATCH LIVE: Stream PL via Live Extra ]
I think winter is finally over… The last week or two the weather has been really, really nice here. The sun is out, I am wearing short sleeved jerseys for games and when the sun is out everyone is happy. Your body feels better for some reason and you feel like you have more energy and when you wake up in the morning, the sun is shining through the window and you just have a smile on your face. The area where I live just outside Manchester is not known for its sun, so you have to make the most of it! We reached 70 degrees the other day and it was really lovely, it's always good to train in that type of weather and also to get a Zoolander reference in, when you can…
Waking up on Thursday morning in England, I was really happy to see the U.S. national team beat Mexico 2-0 (again!) in Texas. I will be watching the highlights of that one, for sure. It is always good to get a victory over Mexico for the USMNT.
This Saturday we have a big game at home against Southampton (Watch live, 10 a.m ET online via Live Extra). They are a tough team who have found form and are pushing for a Europa League spot so they are full of confidence but at the same time they are coming to the Brit, we want to show well and get stuck into them.
Thanks for all the love and support from across the pond. Until next time, peace!