Seventy-seven percent of this weekend's Bundesliga results are in the books, and Germany is still waiting for its first upset.
[ MORE: Arsenal returning to FA Cup final ]
Bayern Munich, Bayer Leverkusen and Augsburg all won their matches, while traditional power Borussia Dortmund chalked up a win in the week following a dramatic announcement from its manager, Jurgen Klopp, who will be leaving BVB after the season.
Borussia Dortmund 3-0 Paderborn
Klopp may be leaving, but the cupboard is far from bare, as Henrik Mkhitaryan, Pierre-Emerick Aubameyang and Shinj Kagawa each registered a second half goal in BVB's 3-0 beating of Paderborn, which sits in the relegation playoff slot. Dortmund pulled to within six points of fifth place and five points of sixth.
Eintracht Frankfurt 0-0 Borussia Monchengladbach
A battle of United States outside players ended in a scoreless draw, as substitute Timmy Chandler's hosts were unable to breakdown Fabian Johnson's visitors over 90 minutes on Saturday. Chandler came on for Slobodan Medojevic in the 65th minute, while Johnson played into the second minute of stoppage time before coming off for Havard Nordtvelt.
Freiburg 2-3 Mainz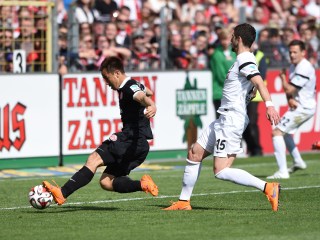 The thriller in MAGE SOLAR Stadion doesn't carry the same alliterative fun as Manila, but these two sides did it right on Saturday. Shinji Okazaki continued his fine season with a pair of goals just before halftime, and that score lasted until the 81st minute, when the game saw three goals in 10 minutes.
Admir Mehmedi pulled one back for Freiburg in the 81st before Yunus Malli restored the two-goal lead minutes later. Jonathan Schmid scored early in stoppage time, but it was too little, too late, and Mainz separated itself from Freiburg in the race for safety./
Elsewhere
Hertha Berlin 0-0 Koln — 90 minutes from USMNT's Brooks in draw
Bayer Leverkusen 4-0 Hannover — Four different net for hosts
Augsburg 2-1 Stuttgart — Raul Bobadilla breaks tie in 77th minute
Hoffenheim 0-2 Bayern Munich — Easy enough win for Sebastian Rode, leaders
Werder Bremen vs. Hamburger — 9:30 a.m. ET Sunday
Wolfsburg vs. Schalke — 11:30 a.m. ET Sunday