LONDON — Jose Mourinho is the best in the business at grinding out a win.
On Saturday his Chelsea side increased their lead at the top of the Premier League table to 10 points after they beat Manchester United 1-0 at Stamford Bridge following a resolute, composed and ultra-defensive display.
[ RELATED: Three things we learned ]
Yes, Chelsea were out-played for most of the game and sat back to invite pressure from United but Mourinho insisted in his post-game press conference that letting United play the lead role was the plan all along. Then Eden Hazard delivered the moment of magic which sealed the victory.
"I think the team was fantastic and I am the one who knows how fantastic it was," Mourinho said. "The game was exactly what we want and when you manage to play the game we want to play, it is fantastic. The game was exactly what we were working for the game to be. The players were magnificent and on top of that Eden [Hazard] had that magic that the top ones have, especially in the big matches. Obviously it was fundamental for us."
Mourinho also added that "we prepared for it to be like this. It was the game we wanted and expected," and the went on to claim that Chelsea's gameplan had work perfectly and wasn't as difficult as they'd expected it to be.
"It was difficult, but less than you think," Mourinho said. "Control their direct football to Marouane Fellaini and control the wingers from making crosses on the inside foot. When we know Wayne Rooney plays in midfield, we control his progression into the box. Control set-pieces and don't give away direct free-kicks as they have three specialists. Wait for a mistake and score a goal. We were able to make their important players disappear. Nobody saw them. They were in our pockets."
[ RELATED: Van Gaal hails United's "best match of season" ]
United had 70 percent of possession, 15 shots to Chelsea's seven and hit the woodwork through Radamel Falcao. Falcao, Juan Mata and Wayne Rooney all went close after a mixture of slack shooting and brave blocks from Chelsea's defense. Mourinho set up his side to thwart United's attacking impetus and the likes of Fellaini and Mata were certainly nowhere near as influential as they'd been in previous games as the Red Devils' six-game winning streak came to and end.
Mourinho — who worked under Louis van Gaal at Barcelona from 1997-2000 and considers the Dutchman a close friend — got one over the master, as the apprentice showed that he can shuffle his team and stifle opponents masterfully whenever he wants to. It might not win many plaudits or get people waxing lyrical about the Chelsea side of 2014-15 — even if in the early parts of the season Cesc Fabregas, Diego Costa and others were ripping it up and playing sensational soccer before the trials and tribulations of fighting for four trophies took its toll on the squad — but these tactics get results. Will any Chelsea fan celebrating their inevitable PL title success on the Kings Road in late May when Mourinho and Co. are waving the trophy off an open top bus really stand there and say "well, this doesn't feel great. We should have played more attractive soccer." Of course not.
With Kurt Zouma deployed in the holding role alongside Nemanja Matic, Chelsea completley shut off the area in front of their back four and Fellaini had to drift wider and wider as the game wore on to try and see the ball. Mata was subbed off due to his ineffective display and even though van Gaal believed it was United's "best match of the season," they failed to score and Chelsea looked solid and steady to grind out their fourth one-goal win in a row.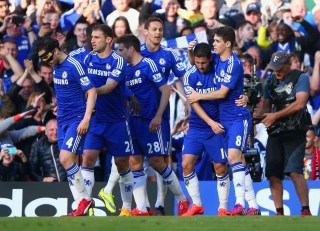 It isn't pretty, but it is championship form. Wins like Saturday, against a top team who are riding high and will no doubt continue their rebuild over the summer and challenge for the PL title next season, are exactly why the Blues will win the league.
Mourinho isn't letting an air of complacency settle in at Stamford Bridge. That was evident when he was told that captain John Terry had said the league was all but Chelsea's in a separate interview.
"No, and I am not happy if John said that," Mourinho barked. "We need eight points to be champion. Football is not about if, it is not about almost. It is about mathematics and when mathematically it is done we celebrate. Until that moment, we need two victories and two draws to be champions."
Mourinho insisted that despite a lengthy and incredibly jovial celebration from his players at the end of the game, he has not lost focus and will be "ready to work again next week and make the players feel there is still a long way to go."
Same old Mourinho. Boring or not, his tactical masterclasses get results and away at Arsenal next week expect another stifling display from his side. If every manager could pull off his meticulous attention to defensive detail, then they would have no hesitation in doing so. The dark arts of defending first at all costs continue to get Mourinho and Chelsea results.