Easily the biggest surprise from last week's first legs of the UEFA Champions League quarterfinal stage was Porto's 3-1 destruction of German giants Bayern Munich. The defeat was so bad, in fact, that Bayern's team doctor quit after being blamed for the hevy defeat.
[ FOLLOW: All of PST's UCL coverage ]
On Tuesday, Pep Guardiola's side has 90 minutes to undo the current 3-1 aggregate scoreline and advance to their fourth-straight Champions League semifinal. It won't be easy for Die Bayern, though, as they'll again be without the services of Arjen Robben, David Alaba, Javi Martinez, Medhi Benatia and Franck Ribery, while Bastian Schweinsteiger in the lone player with a chance to return after missing the first leg.
Guardiola, on the prospects of erasing a 3-1 deficit:
"The game is a big challenge, but when you're coach of a club like Bayern every day is a challenge. During the last few weeks, which have not been easy for us, I have learned a lot about my work.

"I am very satisfied being coach of this club. Even with all the problems we have, we are in the semi-finals of the German Cup, we will probably retain the German title and we are still in the running in the Champions League. But I know the club I am working for. It is like in Barcelona or Madrid – only the treble is enough."
Prediction: Bayern 2-0 Porto — Bayern advance on away goals
Elsewhere, Barcelona hold a similar 3-1 advantage ahead of their second-leg clash with Paris Saint-Germain, with the big difference being that Luis Enrique's side earned their first-leg advantage on the road, featuring three precious, potentially tie-breaking away goals.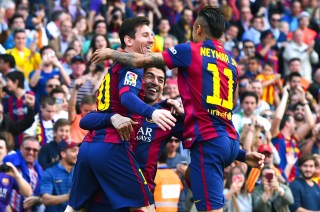 Zlatan Ibrahimovic is set to return from a one-game Champions League suspension which kept him the big Swede out of the first leg, but PSG boss Laurent Blanc is the first to admit, as he has this week, overcoming a two-goal deficit prior to kickoff at the Camp Nou will be "extremely difficult."
"We can say that we have nothing to lose," said Blanc. "I think we will have the opportunity to score, but the big problem is that we can't concede and against Barcelona that is almost impossible."
Meanwhile, Barcelona continued their momentum through league play on the weekend, brushing aside Valencia as Lionel Messi scored his 400th Barcelona goal.
Enrique acknowledges the return of Ibrahimovic will undoubtedly increase the quality of PSG, but still backs his side to reach their seventh semifinal in eight years.
"Ibrahimovic is capable of having a shot on goal at any time – he's one of the best strikers in the world," Enrique said this week. "We know him very well and he represents an extra source of motivation for us. We might change our plan a bit, but not because of Ibra or Verratti. We sometimes change it to create more problems for the opposition, not because of individual players."
Prediction: Barcelona 3-1 PSG — Barca advance easily