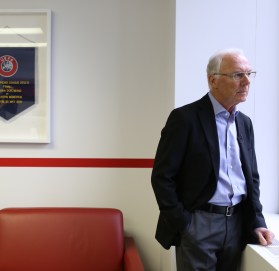 NEW YORK — When it comes to recent developments in the Bundesliga, it'd be hard to argue that anything tops the news that Jurgen Klopp is taking leave of Borussia Dortmund at the end of this season.
[ RELATED: Guardiola believes Bayern can win ]
And knowing how much of a thorn Klopp has been in Bayern Munich's side over the last few years, it'd also be hard to argue that such an announcement should be met with anything other than glee by Bayern. Your chief rival's heavy metal gaffer is moving along. Mia san marvelous, no?
Well, not if you're club legend Franz Beckenbauer. For Der Kaiser, it's actually a sad day for the Bavarians.
Speaking at the club's tiny midtown Manhattan offices to help announce Bayern's new partnership with MSN, Beckenbauer started out by stating he's hopeful that Klopp would stay in Germany.
"I hope [Klopp] will stay in the Bundesliga," admitted Beckenbauer. "Everybody is asking [where he'll wind up] … Not at Bayern Munich, because we have an excellent coach with Pep Guardiola, but I think the rest would be very, very happy to have the interest of Jurgen Klopp, to get him."
Beckenbauer also empathized with Klopp's decision to call an abrupt end to his Dortmund days, arguing that a coach's impact on his players will eventually wane over time.
"I understand him personally, because seven years to be the coach of the same team; it's a long, long time," said Beckenbauer. "There comes a time … [you use] the same motivation [tactics] but the players, they're not listening like five years ago, or four years ago. That's the way [Borussia] played this season. He realized it's very, very difficult to bring them back to the old performance, so that's when he said, 'OK, I did a lot the last seven years, but now, it's finished.'"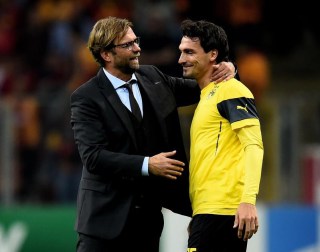 Beckenbauer then compared Klopp's career arc to his own experience coaching the national side.
"It's the same with me when I coached the German national team for six years," said Beckenbauer. "After six years, I find out, no, there is no motivation any more. And before everybody realized I'm not motivated anymore, I said, no. I quit. I stop. It was my decision. And it's the same with Jurgen Klopp."
Befitting of someone who is poised to start work as a columnist for Bayern's U.S. media properties, Beckenbauer then tugged on the assembled media's heartstrings a bit by admitting that the German league isn't just better with Klopp around, but it actually needs him.
"I hope that he takes [his next] challenge in the Bundesliga," said Beckenbauer in slightly hushed tones. "Because we need him. He's an excellent coach, and as we know, he's also an excellent guy. Very, very good character."
Beckenbauer's compassion play didn't stop there. At least not completely, as he ladeled out a partial dollop of contrition for some prickly words he handed out following Bayern's sluggish 3-1 first-leg loss at Porto in the Champions League quarterfinals last Tuesday.
"Yeah, I made a mistake [with the harsh comments], I know," admitted Beckenbauer. "But I was so angry … and then after 10 minutes, you're 2-0 down. It's a quarterfinal of the Champions League, and they made so many individual mistakes. I never saw this before. To see the passes, they passed the ball and there was no one there. I thought they took sleeping pills. Really, it looked like that. Porto was much faster and [had] more willpower."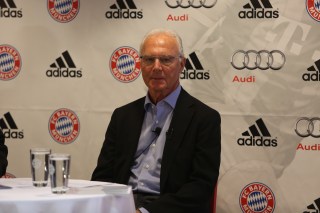 Beckenbauer also apologized for saying Brazilian defender Dante played like he was "wearing his ski boots."
"I feel very sorry to give [Dante] the ski boots [comment]," admitted Beckenbauer. "But he's a Brazilian, and a Brazilian means, for me, you know, with their technique … And Pele; that's Brazilian for me. But not this way, to give the ball easy away."
Yet all is not lost to Beckenbauer, as he thinks the reigning German champs can still turn things around against the Portugese underdogs in Tuesday's second leg.
"If [Bayern] play like they play [in the first leg], no chance," said Beckenbauer. "But they are able to turn the result, so they can win the game 2-0. Even if they give up a goal, they have a chance with 3-1 to get into overtime. So they have a chance."
Regardless of the result, however, Beckenbauer's own form as a pundit seems to be soaring at present. From Klopp the beloved to Dante on the slopes, the only thing Der Kaiser has to guard against is using up all of his best material during press events.