Heading into the quarterfinals, Barcelona and Bayern Munich were the bookies' favorites to raise the Champions League trophy in May.
[ RELATED: Champions League schedule ]
Both clubs were sure money today, as they easily handled their opposition to lock up the first two spots in the semifinals.
Bayern Munich 6-1 (7-4, agg) FC Porto — RECAP
Remember when some people doubted Pep Guardiola and Bayern Munich following their 3-1 loss to Porto in the first leg?
Well Bayern made the critics eat their words with an absolutely dominating performance, bagging five first half goals en route to a 6-1 thrashing of Porto in front of 70,000 strong at Allianz Arena. In the past two Champions League matches in Munich, Bayern has outscored its opposition 13-1.
The Bavarians scored five goals in a 26-minute span, immediately crushing any hopes of a semifinal berth for Porto. Thomas Muller scored his 27th Champions League goal in the win, becoming the highest-scoring German player in the competition's history. He is still only 25 years old.
Barcelona 2-0 (5-1, agg) Paris Saint-Germain — RECAP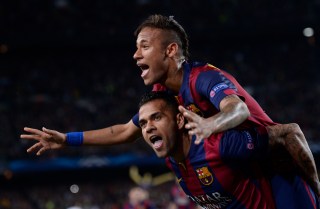 Barcelona held a commanding 3-1 aggregate lead after the first leg in Paris, and Luis Enrique's men continued to roll at Camp Nou.
A first half brace from Neymar all but eliminated Paris Saint-Germain, as the attack-minded Catalans tightened defensively to make sure PSG had no chance to mount a comeback. PSG managed only two shots on goal, with the return of Zlatan Ibrahimovic to the lineup not enough to break down the mighty Barcelona.
When it comes to the Champions League semifinals, you should expect to see Barcelona's name. The Spanish giants have reached the final four of the competition seven times over the past eight seasons, winning the title in 2009 and 2011.