First off, excuse the question. Of course the answer is that Liverpool is trying to win all of its games, but let's stay in an analytical type of world. Here's the top of the Premier League table right now.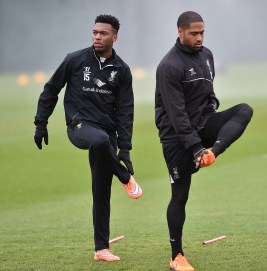 There are the Reds, with a match-in hand on both Manchesters above them, and both teams below them. Certainly there's no guarantee they win that match-in-hand, but seeing as Liverpool has won more than half its matches so far, it's not crazy to imagine they have a shot.
But is it more realistic to stay Liverpool is chasing a Top Four spot and a berth in the UEFA Champions League, or defending fifth from theoretically-onrushing Spurs and Southampton?
Let's dig in, shall we? Starting with the Top Four proposition:
Liverpool remaining schedule (6)
April 25 at West Brom
April 28 at Hull City
May 2 vs. QPR
May 10 at Chelsea
May 16 vs. Crystal Palace
May 24 at Stoke City
Manchester City remaining schedule (5)
April 25 vs. Aston Villa
May 3 at Spurs
May 10 vs. QPR
May 17 at Swansea City
May 24 vs. Southampton
Manchester United remaining schedule (5)
April 26 at Everton
May 2 vs. West Brom
May 9 at Crystal Palace
May 17 vs. Arsenal
May 24 at Hull City
The Reds will be favored to win at least four of its six matches, with folks favoring Chelsea on May 10 and perhaps Stoke at the Britannia Stadium to end the season. But Chelsea could well have its Premier League crown sealed by that match, and it could be a coronation for the cruising Blues. The West Brom/Hull trips within a few days is a dicey proposition, but the Tigers will also be dealing with a short week after facing Crystal Palace on Saturday.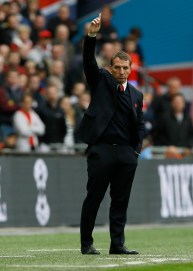 Given City's recent form, anything is possible from a tricky five-match run in that features visits to Swansea and Spurs. With the exception of Swansea, everyone on the list has something to play for, which cannot be said for Manchester United. The Red Devils seem safe, but can Liverpool make up 7 points on City with a match in hand?
It's not unreasonable at all, but is it more likely Spurs or Saints track Brendan Rodgers crew down?
Tottenham Hotspur remaining schedule (5)
April 25 at Southampton
May 3 vs. Manchester City
May 9 at Stoke City
May 16 vs. Hull City
May 24 at Everton
Southampton remaining schedule (5)
April 25 vs. Spurs
May 2 at Sunderland
May 9 at Leicester City
May 16 vs. Aston Villa
May 24 at Manchester City
The good news for Liverpool is that Tottenham's tough trio of matches could eliminate its threat by the end of the day on May 9, and that Spurs, Saints or both will lose points this weekend.
Consider a draw at St. Mary's on Saturday and a pair of Reds wins this week. Liverpool would have gathered 63 points with three matches to play, and lead Spurs by five and Saints by six. That would more or less be game over in the chase for fifth.
Unless there's an FA Cup semifinal hangover for the Reds when they hit the Hawthorns on Saturday, it's reasonable to think the Reds will keep up their trend of winning in the Premier League during this calendar year.
And considering the above argument, perhaps the Top Four is in play. We say the Reds are more chasing the four than defending the five. What say you?