So Jordan Henderson's new deal at Liverpool is official, aligning him with a trio of youngsters at Anfield for years to come.
But will it be a quartet?
Philippe Coutinho, Daniel Sturridge and Henderson are inked into the coming years of Liverpool, while Raheem Sterling's future lies in the balance. The 20-year-old attacker with a penchant for shooting wizardry has been offered the same wages as Henderson — $150,00 per week — but is holding out for closer to $200,000.
Meanwhile transfer figures as high as a world record $150 million have been tossed around for Sterling. This was by Manuel Pellegrini, who was pointing out that English teams pay crazy money for English talent.
[ MORE: Henderson, Rodgers comment on new deal ]
An Arsenal rumor had Sterling going for $30 million plus Theo Walcott. Transfermarkt has Sterling's value at around $32 million, while Liverpool has been whispered to think $75 million is about right.
And if Sterling won't take close to $150,000 a week from my club — a wage which is higher than Steven Gerrard's made — and someone offers me $75 million for the kid… I'm selling in a heart beat.
It doesn't have a ton to do with skill. Sterling is a very good player, though his lead touch betrays him far too much for my liking. Yes he's 20 and will learn the nuances of dribbling, but $75 million! Paul Pogba might cost $90 million but he's more of a game dictator, further proven and just two years Sterling's senior. Call Juventus, Brendan.
Coutinho's new deal is a bit more than Henderson, sitting at $112,000 per week, and if I had to choose — in the rich world of football, you don't always have to choose — I'd rather Coutinho than Sterling (Again, both are fine. It's not my money).
[MORE: New seeding system for Champions League]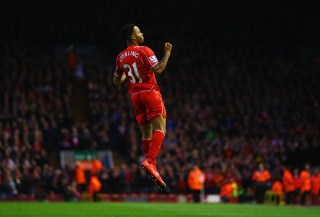 Transfer fees rise more every window, so it's useless to compare $75 million now to the similar fees paid for Zinedine Zidane and Carlos Tevez in years past, or even $50 million Alexis Sanchez this summer, but think of where you slot Sterling as a player. Even include potential if you'd like.
There's one more thing: perhaps $200,000/week contracts are going to be the norm, but signing Sterling to that deal would eliminate your options of transferring him to the majority of teams in the world.
Using advanced stats site Squawka, with the admittance that Sterling is — again — just 20, Sterling ranks No. 19 overall in the Premier League and No. 14 overall. This with the fact that he is not going to defend well and is not an asset in possessing the ball.
This isn't to say he's garbage; Sterling is clearly a bright young talent in the Premier League, and I love that borderline Little Richard 'do he was rocking early this year. But if someone comes calling with that high of a fee, I'm thinking I can find far better value for my money.