Bayern Munich may have the Bundesliga title sewn up, but the race to avoid the drop is as tight as you like, with five clubs within three points of safety and calamity.
Three of four "bottom five" clubs who played on Saturday picked up a point, including one side scooping up a massive three points to leap off the bottom of the table.
[ WATCH: Watford learns its been promoted ]
Let's dig into a heaping cup of Bundesliga.
Borussia Dortmund 2-0 Eintracht Frankfurt
BVB could be headed for Europe after all, as the once last-place side has risen to eighth in the league after a big win at Westfalenstadion.  Pierre-Emerick Aubameyang converted a penalty off an early handball from Frankfurt, while Shinji Kagawa gave the match its final score line in the 32nd minute. USMNT back Timmy Chandler went 90 in the loss.
Bayern Munich 1-0 Hertha Berlin
John Anthony Brooks and Hertha were more than game for a Bayern team coming off a big win in the UEFA Champions League at midweek, but Bastian Schweinsteiger stepped in to earn the hosts all three points on Saturday. One minute after putting a header off the post, Schweinsteiger netted the first and only goal of the game, as Brooks could only watch a pass makes its way past him in the 18.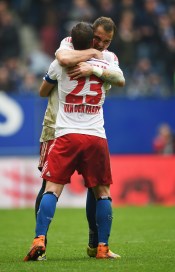 Hamburg 3-2 Augsburg
The stars were out for Hamburg on Saturday, as Pierre-Michel Lasogga and Ivica Olic played the role of heroes for the relegation-threatened club. Olic netted in the 11th minute and Lasogga scored his first 8 minutes later to lift the home crowd into a frenzy, but Augsburg evened it up by the 69th minute.
Lasogga has disappointed this season after a brilliant loan spell last season earned him a permanent move, but his 71st minute tally will allow that to be forgotten, at least for now. Augsburg fails to take advantage of Schalke's loss to Mainz, and the clubs remain tied for fifth.
Elsewhere
Mainz 2-0 Schalke — Stefan Bell's 2 goals in 3 minutes earn upset
Koln 1-1 Bayer Leverkusen — Visitors with Top 4 hiccup.
Stuttgart 2-2 Freiburg — Nils Peterson erases 2-0 road deficit himself.
Hannover 1-2 Hoffenheim — Sven Schipplock has great name, late winner.
Paderborn vs. Werder Bremen — 9:30 a.m. ET Sunday
Borussia Monchengladbach vs. Wolfsburg — 11:30 a.m. ET Sunday